BASIC Non-Exclusive Master License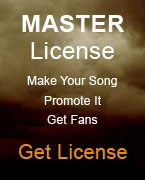 You can buy a non-exclusive license permitting up to one thousand (1,000) tangible, mechanical, and non-profit copies of a recorded song using a beat.
A BASIC license grants you the following rights:
to use a song recorded over the licensed beat (the final recorded song shall be known as the 'Master Recording') for the manufacture of 1,000 non-profit albums, or 1,000 non-profit internet downloads, in either combination.
You can preview all music before you buy by clicking the little play button. Click the cover image to preview all songs for a collection/album. Music previews are lower quality for faster loading.
You can pay with a credit card or Paypal. After your payment goes through, I will email you a link with some download instructions. If you have any trouble with my store, you can send me a message.