Non-Exclusive PREMIUM License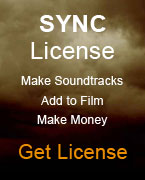 You can buy a non-exclusive PREMIUM license granting you the right to synchronize a composition (beat) to motion picture. In other words, a PREMIUM license allows you to legally use my song in your TV show, commercial, film, video game, or YouTube video (a process called 'synchronization').
A PREMIUM license grants you the following rights:
to use the beat for soundtrack purposes for up to three (3) of the following commercial or for-profit mediums: motion picture, television show, television commercial, recorded video, music video, video game, website.
You can preview all music before you buy by clicking the little play button. Click the cover image to preview all songs for a collection/album. Music previews are lower quality for faster loading.
You can pay with a credit card or Paypal. After your payment goes through, I will email you a link with some download instructions. If you have any trouble with my store, you can send me a message.