Media: Piano Smooth Jazz Instrumental Music by Taurus James – Taurus James aka TaurusBeats
---
Like, Comment, Share
At His Feet
At His Feet
by Taurus James
Easy Listening
93
4:59

Found in...
Closer
Image: Taurus James aka TaurusBeats – Piano Smooth Jazz Instrumental Music by Taurus James – TaurusBeats
Original, Piano, Smooth Jazz, Moody Instrumental Music by Taurus M. James
I just want to sit "At His Feet" one day. Then, I will know true peace.
This is one of the first "piano freestyles" I performed.
MUSIC Type
original, instrumental, smooth jazz,
MUSIC Use Suggestions
exercise, fitness, running, dancing, party, background, commercial, advertisement, ads, road trip
MUSIC Tempo
Medium
MUSIC Themes
world, international, wild west, nature, horror, relation, shopping, fashion, party, sports, 1920s, american history, tropical, kids, sci-fi, technology, 1960s, biker, punks, high class, , religious, holidays, farm, rural, fantasy, movies, christmas, entertainment, showbix, 1950s, places, 1970s, education, action, mystery, crime, las vegas, 1980s, martial arts, runnung, fitness, driving, road trips
MUSIC Moods
abstract, repetitive, robotic, mechanical, scientific, futuristic, sparse, atmospheric, ambient, dreamy, elegant, graceful, ethereal, heavenly, hypnotic, lush, magical, panoramic, pastoral, shimmering, swirling, trippy, builds, grows, busy, catchy, dramatic, adventurous, angry, dangerous, dark, eerie, haunting, evil, sinister, fearful, mean, tough, mysterious, ominous, paranoid, scary, stealthy, strange, weird, suspenseful, uneasy, earthy, organic, emotional, anticipation, anxious, childlike, demure, disappointed, heartwarming, introspective, lonely, nostalgic, reflective, poignant, sentimental, thoughtful, energetic, aggressive, driving, lively, hi-energy, rowdy, urgent, wild, frantic, erotic, naughty, raunchy, sexy, fun, comical, humorous, drunken, whimsical, insistent, Positive, optimistic, bright, carefree, happy, joyful, inspirational, uplifting, satisfied, contented, upbeat, punchy, quirky, relaxed, laid back, lazy, peaceful, calm, romantic, passionate, sensual, tender, sad, depressing, melanchoiy, melodramatic, strong, anthemic, bold, confident, determined, epic, majestic, noble, dignified, patriotic, powerful, sophisticated, victorious
INSTRUMENTS
piano, drums, strings, electric piano, rhodes, synths, efx, thunder
---
See also...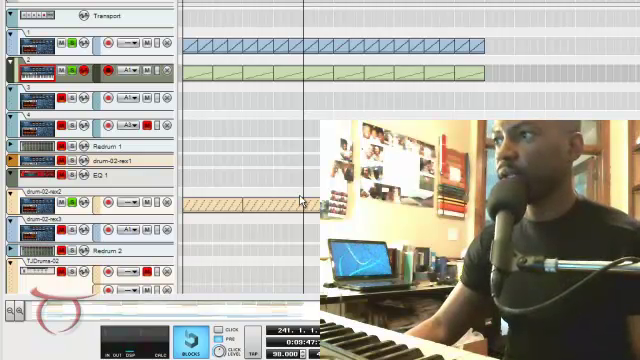 Make Music with Reason: The Making of "Even Still" (Part 4 of 5)
Even Still - Making Moody instruMental Music using Reason - Part 4
Learn how to chop and flip samples using Propellerhead Reason and the Yamaha DJX as a keyboard controller.
In this video, I show you "How I Reason" by covering the following:
In Part 4:
- Adding percussion elements to develop the rhythm
- Adding the drum elements
- Listen to final result
Time: 6 minutes
This video is about: Even Still, instrumental music, Propellerhead Reason, software, Yamaha DJX, piano
Spirits In The Machine is an experimental, sample flip, Hip-Hop beat.
---
Share on social media
TaurusBeats uses AddThis share buttons so you can easily share your favorite content from this site to your Facebook, Twitter, and more.
To share this on social media, click on the share icons. You will be prompted to connect your social media account if you have not already.
Thank you for sharing!
---
Comments