Media: Piano Instrumental Music, Sample Flip, RnB Hip Hop –
---
Like, Comment, Share
Ease The Pain
Ease The Pain
by Taurus James
Sample Flip
95
6:54

Found in...
Bad Bull Beats
Image: – Piano Instrumental Music, Sample Flip, RnB Hip Hop – TaurusBeats
Piano Instrumental Music, Sample Flip, RnB Hip Hop
Lisa Fischer killed the original song and I fell in love with her the first time I heard her on that track (especially that long high note riff she does near the end - wow).
I still love the track to this day so I combined my "Moody instruMental" flavor to Lisa's track and came up with this.
This is one of my "epic tracks" that I use for reflection and thinking.
Listen and Enjoy!
Sample Facts
How Can I Ease The Pain
Artist: Lisa Fischer
Album: So Intense
Released: April 30, 1991
Writer:
Label: Elektra / Wea
Producer:

MUSIC Type
vocal, instrumental, remix, a capella, minimal, sample flip
MUSIC Use Suggestions
exercise, fitness, running, dancing, party, background, commercial, advertisement, ads, road trip
MUSIC Tempo
94bpm (Medium 81bpm - 110bpm)
MUSIC Themes
world, international, wild west, nature, horror, relation, shopping, fashion, party, sports, 1920s, american history, tropical, kids, sci-fi, technology, 1960s, biker, punks, high class, , religious, holidays, farm, rural, fantasy, movies, christmas, entertainment, showbix, 1950s, places, 1970s, education, action, mystery, crime, las vegas, 1980s, martial arts, runnung, fitness, driving, road trips
MUSIC Moods
abstract, repetitive, robotic, mechanical, scientific, futuristic, sparse, atmospheric, ambient, dreamy, elegant, graceful, ethereal, heavenly, hypnotic, lush, magical, panoramic, pastoral, shimmering, swirling, trippy, builds, grows, busy, catchy, dramatic, adventurous, angry, dangerous, dark, eerie, haunting, evil, sinister, fearful, mean, tough, mysterious, ominous, paranoid, scary, stealthy, strange, weird, suspenseful, uneasy, earthy, organic, emotional, anticipation, anxious, childlike, demure, disappointed, heartwarming, introspective, lonely, nostalgic, reflective, poignant, sentimental, thoughtful, energetic, aggressive, driving, lively, hi-energy, rowdy, urgent, wild, frantic, erotic, naughty, raunchy, sexy, fun, comical, humorous, drunken, whimsical, insistent, Positive, optimistic, bright, carefree, happy, joyful, inspirational, uplifting, satisfied, contented, upbeat, punchy, quirky, relaxed, laid back, lazy, peaceful, calm, romantic, passionate, sensual, tender, sad, depressing, melanchoiy, melodramatic, strong, anthemic, bold, confident, determined, epic, majestic, noble, dignified, patriotic, powerful, sophisticated, victorious
INSTRUMENTS
brass, bugle, french horn, trombone, trumpet, tuba, horn section, big bamd, brass band, drumline, marching band, rock band, symphonic band, drums, percussion, guitar, bass, world guitar, lute, dulcimer, keyboard, harpsichord, organ, piano, orchestra, hits, stabs, reeds, woods, wooswinds, accordion, bassoon, clarinet, english horn, flute, oboe, piccolo, recorder, saxophone, badpipes, didgeridoo, duduk, strings, cello, celtic harp, fiddle, harp, pissicato, viola, violin, upright bass, string section, synth, synthisizer, vocal, a capella, beat box, chikd, chanting, choir, gregorian chant, opera, scat, male, female, vocoder, whispering
---
See also...
New Music from my upcoming Collection - "Warrior Music".
Genre(s): Hip-hop, Beats
Mood(s): Focused
Tempo: Mid-Tempo 96 BPM
Other Descriptions: bangin' beat inspired by Warrior Steve Smith (OBC)!
Samples:
King of Pain (The Police)
Drop It Like It's Hot (Snoop)
All other performances by Taurus M. James
http://taurusbeats.com/
http://taurusjames.com/
http://myspace.com/taurusjames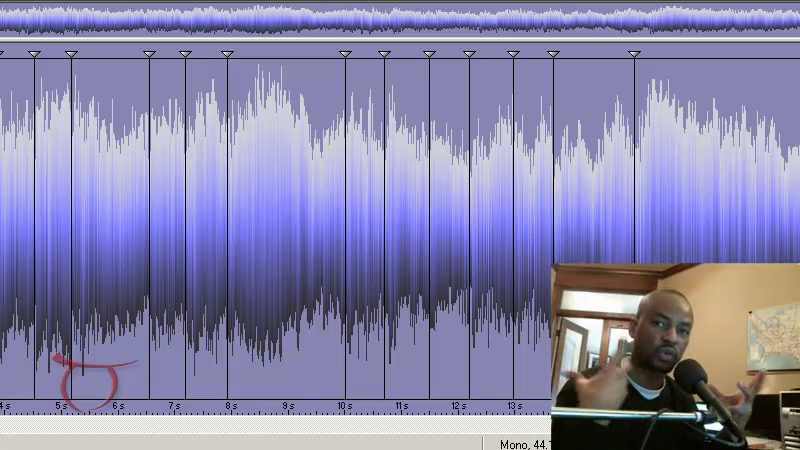 Make Sample Flip Beats with Propellerhead Reason NN-XT and the Akai MPD32: The Making of "Grace To You" (Part 2 of 4)
Grace To You Sample Flip Beat Tutorial Part 2
Learn how to chop and flip samples using Propellerhead Reason and the Akai MPD32 USB/MIDI Pad controller.
In this video, I show you "How I Reason" by covering the following:
In Part 2:
- The importance of LISTENING
- Slicing or Chopping the sample parts
- Using Propellerhead ReCycle
Time: 6 minutes
Inspiration: Grace To You radio show theme music
---
Important Notice:
IMPORTANT: This song contains a sample. If you purchase a license to use this song, you are responsible for clearing the sample for use in your project. Contact me if you want to license a version of this song without the sample.
---
Share on social media
TaurusBeats uses AddThis share buttons so you can easily share your favorite content from this site to your Facebook, Twitter, and more.
To share this on social media, click on the share icons. You will be prompted to connect your social media account if you have not already.
Thank you for sharing!
---
Comments