---
Like, Comment, Share
Ghetto Reign
Ghetto Reign
by Taurus M. James (ASCAP)
Ad Film Soundtrack TV
130
2:46

Found in...
Soul On Fire
Image: – – TaurusBeats
Genre(s): Dance, Cinematic, Soundtrack (Television theme, Film, Video Game)
Mood(s): Aggressive/Driving, Angry, Cinematic, Dark/Mysterious, Dramatic, Urgent/Impassioned
Tempo: Fast 130 BPM
Other Tags: workout, dance, edgy piano, preview
Once in awhile, I get this bug or something to try and make a Dance track - something in the Electronic music realm. This song is one of them.
I was actually watching a car commercial (on mute, again) and I thought of this track. I thought it would really be cool with the "ska" feel to it and all.
Why "Ghetto Reign"? I don't know. It just helped me remember the track.
MUSIC Type
vocal, instrumental, remix, a capella, minimal, sample flip
MUSIC Use Suggestions
exercise, fitness, running, dancing, party, background, commercial, advertisement, ads, road trip
MUSIC Tempo
94bpm (Medium 81bpm - 110bpm)
MUSIC Themes
world, international, wild west, nature, horror, relation, shopping, fashion, party, sports, 1920s, american history, tropical, kids, sci-fi, technology, 1960s, biker, punks, high class, , religious, holidays, farm, rural, fantasy, movies, christmas, entertainment, showbix, 1950s, places, 1970s, education, action, mystery, crime, las vegas, 1980s, martial arts, runnung, fitness, driving, road trips
MUSIC Moods
abstract, repetitive, robotic, mechanical, scientific, futuristic, sparse, atmospheric, ambient, dreamy, elegant, graceful, ethereal, heavenly, hypnotic, lush, magical, panoramic, pastoral, shimmering, swirling, trippy, builds, grows, busy, catchy, dramatic, adventurous, angry, dangerous, dark, eerie, haunting, evil, sinister, fearful, mean, tough, mysterious, ominous, paranoid, scary, stealthy, strange, weird, suspenseful, uneasy, earthy, organic, emotional, anticipation, anxious, childlike, demure, disappointed, heartwarming, introspective, lonely, nostalgic, reflective, poignant, sentimental, thoughtful, energetic, aggressive, driving, lively, hi-energy, rowdy, urgent, wild, frantic, erotic, naughty, raunchy, sexy, fun, comical, humorous, drunken, whimsical, insistent, Positive, optimistic, bright, carefree, happy, joyful, inspirational, uplifting, satisfied, contented, upbeat, punchy, quirky, relaxed, laid back, lazy, peaceful, calm, romantic, passionate, sensual, tender, sad, depressing, melanchoiy, melodramatic, strong, anthemic, bold, confident, determined, epic, majestic, noble, dignified, patriotic, powerful, sophisticated, victorious
INSTRUMENTS
brass, bugle, french horn, trombone, trumpet, tuba, horn section, big bamd, brass band, drumline, marching band, rock band, symphonic band, drums, percussion, guitar, bass, world guitar, lute, dulcimer, keyboard, harpsichord, organ, piano, orchestra, hits, stabs, reeds, woods, wooswinds, accordion, bassoon, clarinet, english horn, flute, oboe, piccolo, recorder, saxophone, badpipes, didgeridoo, duduk, strings, cello, celtic harp, fiddle, harp, pissicato, viola, violin, upright bass, string section, synth, synthisizer, vocal, a capella, beat box, chikd, chanting, choir, gregorian chant, opera, scat, male, female, vocoder, whispering
---
See also...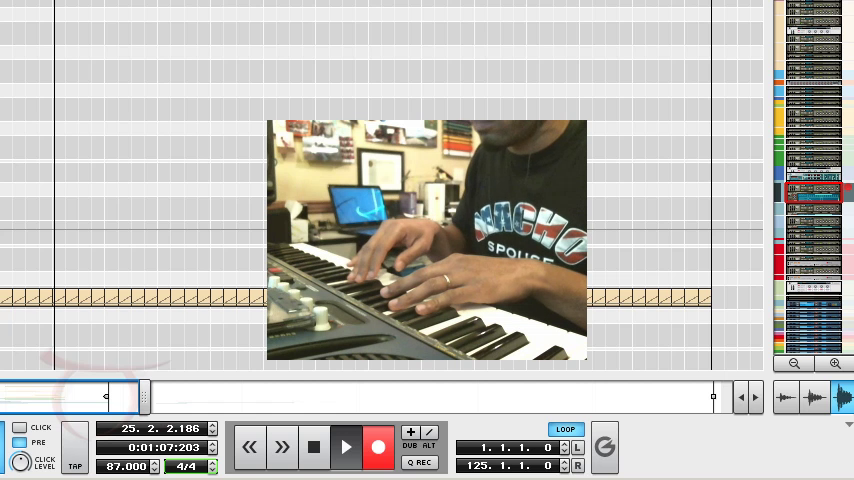 Piano Freestyles Video Series - Dilla Are You Listening
Beatmaking tutorial - Piano Freestyles - How to Make Beats - Dilla Are You Listening
Watch TaurusBeats make Moody Instrumental Music using Propellerhead Reason, Akai MPD32 USB/MIDI hardware control surface and the Yamaha DJX MIDI keyboard.
In this video, I'm just practicing - doing a lot of impromptu playing (improvisation) around with a smooth beat I made using Propellerhead Reason.
Time: 5:26
This post is about: piano freestyle, improvisation, ear training
Genre(s):Hip-Hop, Gospel Rap
Mood(s): Cinematic, Dramatic, Reflective, Sad, Romantic, Impassioned
Tempo: Slow 84 BPM
Other Tags: piano, Gospel Rap
I wrote the lyrics for this track in the Fall of 1994 when I was going through some hard times. It wasn't until 2001 that I was able to lay my own track to make the song complete. Now, I can say this song is completely mine. ITNOJ
---
Share on social media
TaurusBeats uses AddThis share buttons so you can easily share your favorite content from this site to your Facebook, Twitter, and more.
To share this on social media, click on the share icons. You will be prompted to connect your social media account if you have not already.
Thank you for sharing!
---
Comments