Just Been Schooled
Just Been Schooled
by Kid Kikit
Poetry Rap Spoken Word
92
5:03

Found in...
Y2G
Genre(s):Gospel Rap
Mood(s): Cinematic, Dramatic, Aggressive, Angry, Romantic, Urgent/Impassioned, Intense/Foreboding
Tempo: Mid-Tempo 92 BPM
Other Tags: piano, Gospel Rap, listen
"No matter what you claim, You Just Been Schooled!"
This is one of my lyrical performances as my alter-ego,
"Kid Kikit"
, using my original track "Hype" from the "Final Hour Music 2" collection.
MUSIC Type
vocal, instrumental, remix, a capella, minimal, sample flip
MUSIC Use Suggestions
exercise, fitness, running, dancing, party, background, commercial, advertisement, ads, road trip
MUSIC Tempo
94bpm (Medium 81bpm - 110bpm)
MUSIC Themes
world, international, wild west, nature, horror, relation, shopping, fashion, party, sports, 1920s, american history, tropical, kids, sci-fi, technology, 1960s, biker, punks, high class, , religious, holidays, farm, rural, fantasy, movies, christmas, entertainment, showbix, 1950s, places, 1970s, education, action, mystery, crime, las vegas, 1980s, martial arts, runnung, fitness, driving, road trips
MUSIC Moods
abstract, repetitive, robotic, mechanical, scientific, futuristic, sparse, atmospheric, ambient, dreamy, elegant, graceful, ethereal, heavenly, hypnotic, lush, magical, panoramic, pastoral, shimmering, swirling, trippy, builds, grows, busy, catchy, dramatic, adventurous, angry, dangerous, dark, eerie, haunting, evil, sinister, fearful, mean, tough, mysterious, ominous, paranoid, scary, stealthy, strange, weird, suspenseful, uneasy, earthy, organic, emotional, anticipation, anxious, childlike, demure, disappointed, heartwarming, introspective, lonely, nostalgic, reflective, poignant, sentimental, thoughtful, energetic, aggressive, driving, lively, hi-energy, rowdy, urgent, wild, frantic, erotic, naughty, raunchy, sexy, fun, comical, humorous, drunken, whimsical, insistent, Positive, optimistic, bright, carefree, happy, joyful, inspirational, uplifting, satisfied, contented, upbeat, punchy, quirky, relaxed, laid back, lazy, peaceful, calm, romantic, passionate, sensual, tender, sad, depressing, melanchoiy, melodramatic, strong, anthemic, bold, confident, determined, epic, majestic, noble, dignified, patriotic, powerful, sophisticated, victorious
INSTRUMENTS
brass, bugle, french horn, trombone, trumpet, tuba, horn section, big bamd, brass band, drumline, marching band, rock band, symphonic band, drums, percussion, guitar, bass, world guitar, lute, dulcimer, keyboard, harpsichord, organ, piano, orchestra, hits, stabs, reeds, woods, wooswinds, accordion, bassoon, clarinet, english horn, flute, oboe, piccolo, recorder, saxophone, badpipes, didgeridoo, duduk, strings, cello, celtic harp, fiddle, harp, pissicato, viola, violin, upright bass, string section, synth, synthisizer, vocal, a capella, beat box, chikd, chanting, choir, gregorian chant, opera, scat, male, female, vocoder, whispering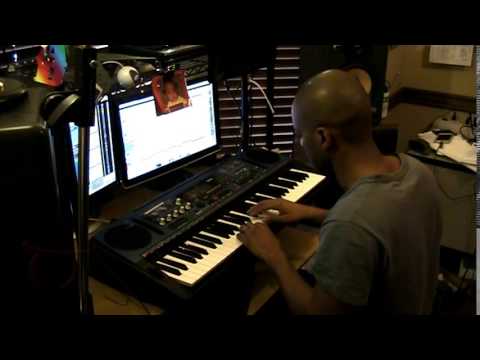 Django Unchained Piano Freestyle
This one is an original. I made the sample flip beat first and added the piano part afterward. What you see in this video is me doing the piano freestyle (improvisation) over the basic sample flip and finger snap. The finger snap serves as the metronome, keeping time for me in the video.
Genre(s): Electronic, Soundtrack, Video Game
Mood(s): Reflective, Somber, Sad
Tempo: Slow 80 BPM
Other Descriptions: piano, strings, preview
Genre(s): Hip-Hop, Gospel Rap
Mood(s): Aggressive, Angry, Impassioned, Intense, Urgent
Tempo: Mid-Tempo 97 BPM
Other Tags: Piano, Strings, guitar, listen
This is an old one, but I still like it. It's me rappin' over P. Diddy's "Bad Boy For Life" track. I had fun changing up my voice to make it seem like I had other people on the track with me.
Genre(s):Hip-Hop, Gospel Rap
Mood(s): Cinematic, Dramatic, Reflective, Sad, Romantic, Impassioned
Tempo: Slow 84 BPM
Other Tags: piano, Gospel Rap
I wrote the lyrics for this track in the Fall of 1994 when I was going through some hard times. It wasn't until 2001 that I was able to lay my own track to make the song complete. Now, I can say this song is completely mine. ITNOJ
---
Got something to say? Sign up or login to participate in the conversation.