Media: TaurusBeats original music with strong emotional piano lamenting life not seen. –
---
Like, Comment, Share
Life Not Seen
Life Not Seen
by Taurus James
Piano
94
5:24

Found in...
CMA Beats
Image: – TaurusBeats original music with strong emotional piano lamenting life not seen. – TaurusBeats
"Life Not Seen" TaurusBeats Original, Piano - Moody Instrumental Music by Taurus M. James
Piano freestyle over an orchestral, RnB / Hip Hop beat lamenting Life Not Seen.
For this original moody instrumental piano music, I'm using Propellerhead Reason 6.5 and the Yamaha DJX MIDI keyboard as a controller to trigger all instrument sounds in Reason. Be sure to check out my Reason Beat Making Video Tutorials, where I show you how to make Moody instruMental Music and sample flip beats.
Featured in Computer Music Academy (CMA) Weekly Homework Assignment Podcast #62
Weekly Homework Podcast #62 | Beats | Computer Music Academy
Even though I'm using Propellerhead Reason to make my Moody instruMental Music creations, you can use my tips and techniques in any DAW to create your own music and make beats.
Follow me on Facebook, Twitter, Soundcloud etc. and I'll see you there! =)
Thank you for your support.
Grace and Peace!
Taurus M. James
"Life Not Seen"
Moody instruMental Music
Copyright 2014 by Taurus M. James
ALL Rights Reserved.
MUSIC Type
instrumental, piano, orchestral, beat, cinematic
MUSIC Use Suggestions
film, movie, documentary, video
MUSIC Tempo
94bpm (Medium 81bpm - 110bpm)
MUSIC Themes
relation, history, action
MUSIC Moods
builds, grows, busy, catchy, dramatic, adventurous, angry, dangerous, dark, eerie, haunting, evil, sinister, fearful, mean, tough, mysterious, ominous, paranoid, scary, stealthy, strange, weird, suspenseful, uneasy, emotional, anticipation, anxious, childlike, demure, disappointed, heartwarming, introspective, lonely, nostalgic, reflective, poignant, sentimental, thoughtful, energetic, aggressive, driving, lively, hi-energy, rowdy, urgent, wild, frantic, insistent, positive, optimistic, bright, carefree, happy, joyful, inspirational, uplifting, satisfied, contented, upbeat, punchy, strong, anthemic, bold, confident, determined, epic, majestic, noble, dignified, patriotic, powerful, sophisticated, victorious
INSTRUMENTS
brass, french horn, trombone, trumpet, tuba, horn section, drums, percussion, guitar, bass, keyboard, organ, piano, orchestra, strings, cello, viola, violin, upright bass, string section, synth, synthisizer
---
See also...
Piano Instrumental Music, RnB, Human League Human Piano Cover
"All I Am (Human)" experimental piano music beat remix - Moody instruMental Music by Taurus M. James 
All I Am (Human) is an experimental piano music beat remix. 
This is another piano music beat,
Made for Dreamer Moody instruMental Music Collection
Dreamer | Piano Music | Moody instruMental Music
This is one of my remakes from the 80s. The music group Human League had the popular song Human that I enjoyed listening to back then - and now. This is my interpolation of the song with me on the piano (and everything else, of course).
Human is All I Am.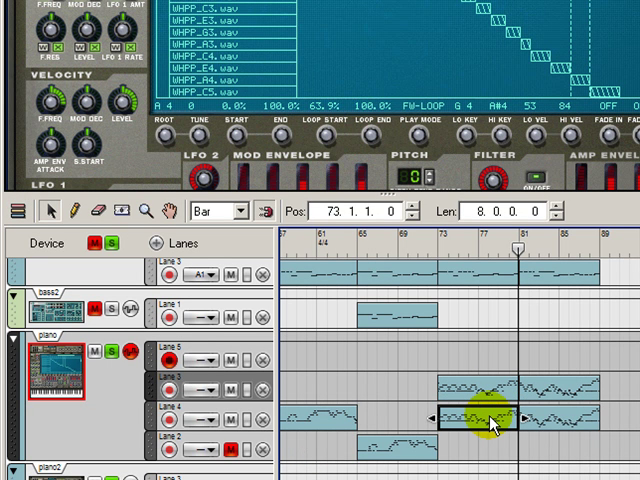 Make Sample Flip Beats with Reason: The Making of "For My Soul" (Part 4 of 5)
For My Soul Sample Flip Beat Tutorial Part 4
Learn how to chop and flip samples using Propellerhead Reason and the M-Audio Oxygen25 USB/MIDI keyboard controller.
In this video, I show you "How I Reason" by covering the following:
In Part 4:
- Propellerhead Reason 4
- Piano Layering Technique
- Instrument Layering Technique
Time: 3:12
---
Share on social media
TaurusBeats uses AddThis share buttons so you can easily share your favorite content from this site to your Facebook, Twitter, and more.
To share this on social media, click on the share icons. You will be prompted to connect your social media account if you have not already.
Thank you for sharing!
---
Comments