Like Rain
Original Background Moody Instrumental Music by TaurusBeats
Like Rain
Original, Background Music, Backing Track, Moody Instrumental Music, Groove, Smooth Jazz
Image for Like Rain –
Song Facts
"Like Rain"
Artist: TaurusBeats
Album: Moody Grooves
Released: 2014
Writer:Taurus M. James
Label: ITNOJ
Producer:Taurus M. James
Made using Propellerhead Reason with Yamaha DJX as a MIDI controller
See also...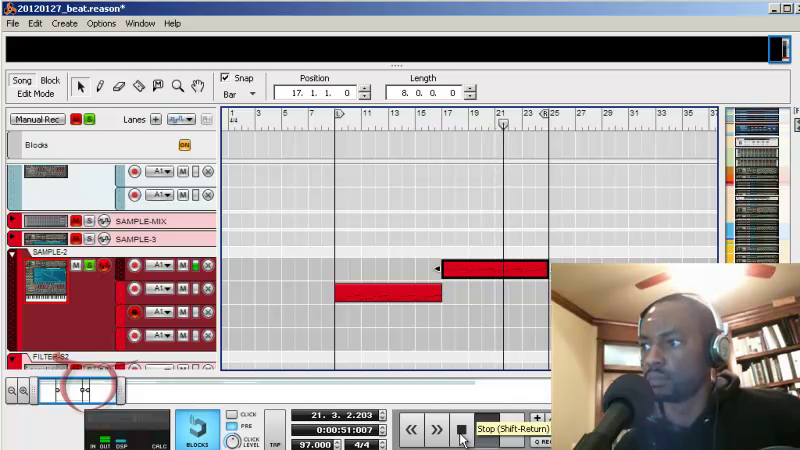 Make Music with Reason: The Making of "Chocolate Sun" (Part 4 of 5)
Chocolate Sun Sample Flip Beat Tutorial Part 4
Learn how to chop and flip samples using Propellerhead Reason and the M-Audio Oxygen25 USB/MIDI keyboard controller.
In this video, I show you "How I Reason" by covering the following:
In Part 4:
- Propellerhead Reason 6
- The importance of not wasting time while in creative mode
- Developing your own sample flipping style or "flow"
- Flipping sample slices using NN-XT and Oxygen25
- Listening for note changes within the sample being flipped
Time: 19 minutes
This video is about: sample chop, sample flip, flip a sample, chop a sample, sampling, music sampling, Sample Chopping, Sony Soundforge, Propellerhead, ReCycle, sample Flipping, Propellerheads, Reason, software Akai, MPD32, Pad controller
Ask yourself, "When I die, where will I go? What if there is a heaven and a hell? If I have to stand before God after my death, and He was to judge me by the Ten Commandments; would I be innocent or guilty?"
If you have ever stolen anything or if you have ever told just one lie (no matter how small), you are guilty of breaking the 8th and 9th commandments. If you have ever, even just once, looked with lust, you have violated the 7th commandment, according to Jesus. More than that, the Bible points out "whoever keeps the whole law and yet stumbles in one point, he has become guilty of all." (James 2:10)
The Bible says in Revelation 21:8 and 1 Corinthians 6:9-10 that "all liars shall have their part in the Lake of Fire". It also says that "no thief, fornicator or adulterer will inherit the Kingdom of God". The price for your violations must be paid and God has declared death as the penalty (Romans 6:23).
As a lawbreaker, you are guilty and deserve Hell for eternity. But God doesn't want anyone to go to Hell and has provided a way for you to be forgiven. He sent His Son, Jesus Christ, to come and die in your place on the cross for your violations so that your debt could be paid. He then rose from the grave defeating death.
God (Acts 17:31) commands you to repent (to turn from all known lawbreaking and turn to God) and place your trust in Jesus Christ who alone is able to save you from God's wrath (Acts 4:12).
---
Share on social media
TaurusBeats uses AddThis share buttons so you can easily share your favorite content from this site to your Facebook, Twitter, and more.
To share this on social media, click on the share icons. You will be prompted to connect your social media account if you have not already.
Thank you for sharing!