Linkin
Linkin
by Taurus James
New Age
80
5:45

Found in...
Final Hour Music 2
Genre(s): Easy Listening, Soundtrack (Television theme, Film, Game), RnB, Funk, Fusion, Downtempo
Mood(s): Reflective, Somber, Sad, Romantic
Tempo: Slow 80 BPM
Other Descriptions: smooth, relaxing, preview, piano
When I first played the piano parts of this song, I was in a deep, pensive mood. I remember thinking that I wanted this song to stand out by having a different piano melodies as the "refrain". I later used this track for my Gospel Rap song Born To Die.
(Taurus M. James, ITNOJ Music, ASCAP)
This recording (c) 2003 Taurus M. James. All Rights Reserved. International Copyright Secured. Any use, transmission, broadcast, synchronization, or reproduction without owner consent is prohibited.
MUSIC Type
vocal, instrumental, remix, a capella, minimal, sample flip
MUSIC Use Suggestions
exercise, fitness, running, dancing, party, background, commercial, advertisement, ads, road trip
MUSIC Tempo
94bpm (Medium 81bpm - 110bpm)
MUSIC Themes
world, international, wild west, nature, horror, relation, shopping, fashion, party, sports, 1920s, american history, tropical, kids, sci-fi, technology, 1960s, biker, punks, high class, , religious, holidays, farm, rural, fantasy, movies, christmas, entertainment, showbix, 1950s, places, 1970s, education, action, mystery, crime, las vegas, 1980s, martial arts, runnung, fitness, driving, road trips
MUSIC Moods
abstract, repetitive, robotic, mechanical, scientific, futuristic, sparse, atmospheric, ambient, dreamy, elegant, graceful, ethereal, heavenly, hypnotic, lush, magical, panoramic, pastoral, shimmering, swirling, trippy, builds, grows, busy, catchy, dramatic, adventurous, angry, dangerous, dark, eerie, haunting, evil, sinister, fearful, mean, tough, mysterious, ominous, paranoid, scary, stealthy, strange, weird, suspenseful, uneasy, earthy, organic, emotional, anticipation, anxious, childlike, demure, disappointed, heartwarming, introspective, lonely, nostalgic, reflective, poignant, sentimental, thoughtful, energetic, aggressive, driving, lively, hi-energy, rowdy, urgent, wild, frantic, erotic, naughty, raunchy, sexy, fun, comical, humorous, drunken, whimsical, insistent, Positive, optimistic, bright, carefree, happy, joyful, inspirational, uplifting, satisfied, contented, upbeat, punchy, quirky, relaxed, laid back, lazy, peaceful, calm, romantic, passionate, sensual, tender, sad, depressing, melanchoiy, melodramatic, strong, anthemic, bold, confident, determined, epic, majestic, noble, dignified, patriotic, powerful, sophisticated, victorious
INSTRUMENTS
brass, bugle, french horn, trombone, trumpet, tuba, horn section, big bamd, brass band, drumline, marching band, rock band, symphonic band, drums, percussion, guitar, bass, world guitar, lute, dulcimer, keyboard, harpsichord, organ, piano, orchestra, hits, stabs, reeds, woods, wooswinds, accordion, bassoon, clarinet, english horn, flute, oboe, piccolo, recorder, saxophone, badpipes, didgeridoo, duduk, strings, cello, celtic harp, fiddle, harp, pissicato, viola, violin, upright bass, string section, synth, synthisizer, vocal, a capella, beat box, chikd, chanting, choir, gregorian chant, opera, scat, male, female, vocoder, whispering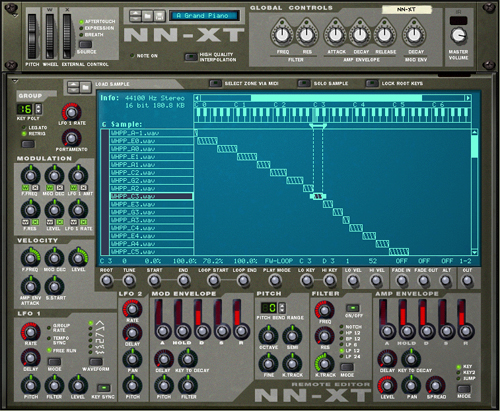 Question from a subscriber:
Here is a nice and simple tutorial I found on how to slice WAV / AIF samples in Propellerheads Reason NN-XT advanced sampler, when you don't have Recycle. Requires Reason 2.0 and higher.
Again, this is a good tutorial on how to "chop samples" inside Reason's NN-XT - no external editor is used in this example. All "chops" are done on Reason!
This may be a little advanced for complete newbies, but follow along and you will be ahead of the game in using the feature-rich Reason NN-XT advanced sampler.
Genre(s): Cinematic, Soundtrack (Television theme, Film), RnB
Mood(s): Cinematic, Dramatic, Romantic, Impassioned, Smooth
Tempo: Mid-Tempo 105 BPM
Other Tags: piano, experimental, dance, workout
Genre(s): Soundtrack (Television theme, Film, Game), Latin, RnB Funk, Fusion, Hip-Hop
Mood(s): Aggressive, Dramatic, Agitated
Tempo: Fast
Other Descriptions: experimental, preview
Uses Wilton Piano Refill.(Reason)

I intentionally left out the bass line in order to see if the song has enough drive without it.

This is part of the "Final Hour Music Volume 2" collection.

ITNOJ!

Genre: Soundtrack (Television theme, Film, Game)Hip-Hop, Downtempo, Ambient
Genre: Soundtrack (Television theme, Film, Game)Hip-Hop, Downtempo, Ambient
---
Got something to say? Sign up or login to participate in the conversation.