Peace
Peace
by Taurus James
RnB-Urban
90
6:29

Found in...
Stirred Not Shaken
Image: – – TaurusBeats
Peace - Reason Beat Making - "Stirred Not Shaken"
This is one of the tracks on my Moody instruMental Music collection "Stirred Not Shaken" inspired by Building 429's "We Won't Be Shaken" track.
There are no samples or sample flips in this one. I explain how and why I put together the piano parts and the rest of the instrumentation.
I'm using Propellerhead Reason 6.5 and the Yamaha DJX MIDI keyboard as a controller to trigger all instrument sounds in Reason. I'm showing you how to make Moody instruMental Music using Reason as I create another one of my Moody instruMental Music creations - "Peace".
Follow me on Facebook, Twitter, Soundcloud etc. and I'll see you there! =)
Thank you for your support.
Grace and Peace!
Taurus M. James
"Peace"
Moody instruMental Music
Copyright 2013 by Taurus M. James
All Rights Reserved.
â–ºMy Blog: http://TaurusJames.com
â–ºMy Facebook: http://facebook.com/TaurusBeats
â–ºMy Twitter: http://twitter.com/TaurusBeats
â–ºMy Soundcloud: http://soundcloud.com/taurusbeats
â–ºMy Music Playlist: Coming Soon!
Sample Facts
NO SAMPLES
Artist: Taurus M. James
Album: Stirred Not Shaken
Released: 4/15/2013
Writer: Taurus M. James
Label: ITNOJ Music
Producer: Taurus M. James

how to make beats
Stirred Not Shaken
Building 429
We Won't Be Shaken
MUSIC Type
vocal, instrumental, remix, a capella, minimal, sample flip
MUSIC Use Suggestions
exercise, fitness, running, dancing, party, background, commercial, advertisement, ads, road trip
MUSIC Tempo
94bpm (Medium 81bpm - 110bpm)
MUSIC Themes
world, international, wild west, nature, horror, relation, shopping, fashion, party, sports, 1920s, american history, tropical, kids, sci-fi, technology, 1960s, biker, punks, high class, , religious, holidays, farm, rural, fantasy, movies, christmas, entertainment, showbix, 1950s, places, 1970s, education, action, mystery, crime, las vegas, 1980s, martial arts, runnung, fitness, driving, road trips
MUSIC Moods
abstract, repetitive, robotic, mechanical, scientific, futuristic, sparse, atmospheric, ambient, dreamy, elegant, graceful, ethereal, heavenly, hypnotic, lush, magical, panoramic, pastoral, shimmering, swirling, trippy, builds, grows, busy, catchy, dramatic, adventurous, angry, dangerous, dark, eerie, haunting, evil, sinister, fearful, mean, tough, mysterious, ominous, paranoid, scary, stealthy, strange, weird, suspenseful, uneasy, earthy, organic, emotional, anticipation, anxious, childlike, demure, disappointed, heartwarming, introspective, lonely, nostalgic, reflective, poignant, sentimental, thoughtful, energetic, aggressive, driving, lively, hi-energy, rowdy, urgent, wild, frantic, erotic, naughty, raunchy, sexy, fun, comical, humorous, drunken, whimsical, insistent, Positive, optimistic, bright, carefree, happy, joyful, inspirational, uplifting, satisfied, contented, upbeat, punchy, quirky, relaxed, laid back, lazy, peaceful, calm, romantic, passionate, sensual, tender, sad, depressing, melanchoiy, melodramatic, strong, anthemic, bold, confident, determined, epic, majestic, noble, dignified, patriotic, powerful, sophisticated, victorious
INSTRUMENTS
brass, bugle, french horn, trombone, trumpet, tuba, horn section, big bamd, brass band, drumline, marching band, rock band, symphonic band, drums, percussion, guitar, bass, world guitar, lute, dulcimer, keyboard, harpsichord, organ, piano, orchestra, hits, stabs, reeds, woods, wooswinds, accordion, bassoon, clarinet, english horn, flute, oboe, piccolo, recorder, saxophone, badpipes, didgeridoo, duduk, strings, cello, celtic harp, fiddle, harp, pissicato, viola, violin, upright bass, string section, synth, synthisizer, vocal, a capella, beat box, chikd, chanting, choir, gregorian chant, opera, scat, male, female, vocoder, whispering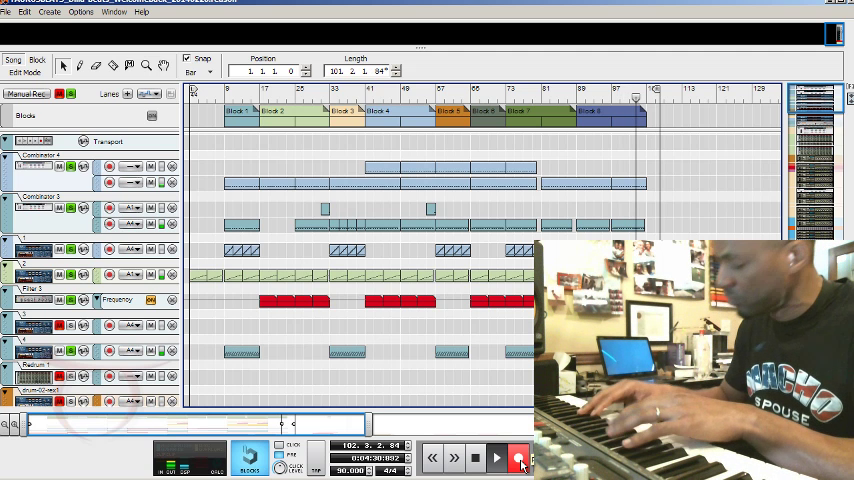 Piano Freestyles Video Series - Floetic
Beatmaking tutorial - Piano Freestyles - How to Make Beats - Floetic
Watch me make Moody instuMental Music using Propellerhead Reason Akai MPD32 USB/MIDI hardware control surface and the Yamaha DJX MIDI keyboard.
In this video, I'm just practicing - doing a lot of impromptu playing (improvisation) around with a smooth beat I made using Propellerhead Reason.
Moody instruMental Music by Taurus M. James
"Floetic"
Copyright 2013 by Taurus M. James - ASCAP
Time: 5:14
This post is about: piano freestyle, piano improvisation, piano, piano mechanics, ear training, make beats, beatmaking
Make Sampl Flip Beats with Reason: Making the Sample Flip Beat "Closer" (Part 2 of 6)
Closer Sample Flip Beat Part 2
Learn how to make sample flip beats using Propellerhead Reason and the M-Audio Oxygen25 USB/MIDI keyboard controller.
In this video, I show you "How I Reason" by covering the following:
In Part 2:
- Propellerhead Reason 4
- Slicing Samples in ReCycle 2.1
- Propellerhead ReCycle 2.1 Autoslice feature
- ReCycle 2.1 Transient Shaper
- Loading Samples into Reason 4 NN-XT Sampler
- Using MPD32 with Reason 4 to act as a "poor man's" MPC (Fake MPC Feel)
- Select Zone via MIDI feature in NN-XT
Time: 13:59
---
Got something to say? Sign up or login to participate in the conversation.