---
Like, Comment, Share
Peace
Peace
by Taurus James
RnB-Urban
90
6:29

Found in...
Stirred Not Shaken
Image: – – TaurusBeats
Peace - Reason Beat Making - "Stirred Not Shaken"
This is one of the tracks on my Moody instruMental Music collection "Stirred Not Shaken" inspired by Building 429's "We Won't Be Shaken" track.
There are no samples or sample flips in this one. I explain how and why I put together the piano parts and the rest of the instrumentation.
I'm using Propellerhead Reason 6.5 and the Yamaha DJX MIDI keyboard as a controller to trigger all instrument sounds in Reason. I'm showing you how to make Moody instruMental Music using Reason as I create another one of my Moody instruMental Music creations - "Peace".
Follow me on Facebook, Twitter, Soundcloud etc. and I'll see you there! =)
Thank you for your support.
Grace and Peace!
Taurus M. James
"Peace"
Moody instruMental Music
Copyright 2013 by Taurus M. James
All Rights Reserved.
â–ºMy Blog: http://TaurusJames.com
â–ºMy Facebook: http://facebook.com/TaurusBeats
â–ºMy Twitter: http://twitter.com/TaurusBeats
â–ºMy Soundcloud: http://soundcloud.com/taurusbeats
â–ºMy Music Playlist: Coming Soon!
Sample Facts
NO SAMPLES
Artist: Taurus M. James
Album: Stirred Not Shaken
Released: 4/15/2013
Writer: Taurus M. James
Label: ITNOJ Music
Producer: Taurus M. James

how to make beats
Stirred Not Shaken
Building 429
We Won't Be Shaken
MUSIC Type
vocal, instrumental, remix, a capella, minimal, sample flip
MUSIC Use Suggestions
exercise, fitness, running, dancing, party, background, commercial, advertisement, ads, road trip
MUSIC Tempo
94bpm (Medium 81bpm - 110bpm)
MUSIC Themes
world, international, wild west, nature, horror, relation, shopping, fashion, party, sports, 1920s, american history, tropical, kids, sci-fi, technology, 1960s, biker, punks, high class, , religious, holidays, farm, rural, fantasy, movies, christmas, entertainment, showbix, 1950s, places, 1970s, education, action, mystery, crime, las vegas, 1980s, martial arts, runnung, fitness, driving, road trips
MUSIC Moods
abstract, repetitive, robotic, mechanical, scientific, futuristic, sparse, atmospheric, ambient, dreamy, elegant, graceful, ethereal, heavenly, hypnotic, lush, magical, panoramic, pastoral, shimmering, swirling, trippy, builds, grows, busy, catchy, dramatic, adventurous, angry, dangerous, dark, eerie, haunting, evil, sinister, fearful, mean, tough, mysterious, ominous, paranoid, scary, stealthy, strange, weird, suspenseful, uneasy, earthy, organic, emotional, anticipation, anxious, childlike, demure, disappointed, heartwarming, introspective, lonely, nostalgic, reflective, poignant, sentimental, thoughtful, energetic, aggressive, driving, lively, hi-energy, rowdy, urgent, wild, frantic, erotic, naughty, raunchy, sexy, fun, comical, humorous, drunken, whimsical, insistent, Positive, optimistic, bright, carefree, happy, joyful, inspirational, uplifting, satisfied, contented, upbeat, punchy, quirky, relaxed, laid back, lazy, peaceful, calm, romantic, passionate, sensual, tender, sad, depressing, melanchoiy, melodramatic, strong, anthemic, bold, confident, determined, epic, majestic, noble, dignified, patriotic, powerful, sophisticated, victorious
INSTRUMENTS
brass, bugle, french horn, trombone, trumpet, tuba, horn section, big bamd, brass band, drumline, marching band, rock band, symphonic band, drums, percussion, guitar, bass, world guitar, lute, dulcimer, keyboard, harpsichord, organ, piano, orchestra, hits, stabs, reeds, woods, wooswinds, accordion, bassoon, clarinet, english horn, flute, oboe, piccolo, recorder, saxophone, badpipes, didgeridoo, duduk, strings, cello, celtic harp, fiddle, harp, pissicato, viola, violin, upright bass, string section, synth, synthisizer, vocal, a capella, beat box, chikd, chanting, choir, gregorian chant, opera, scat, male, female, vocoder, whispering
---
See also...
I've been a fan of Xzibit since I copped his "Paparazzi" cassette single back in 1996, when I was finishing college at UCCS.
I grew up in Hip-Hop and the East Coast style of flowing was what I grew to love. Although he's from the West, Xzibit's flow captivated me and his words were not only fierce but heartfelt as well. I found Xzibit to be far a superior artist in that time because he reminded me of a field commander - not just giving orders, but leading in the fight.
This performance of "Thank You" was flawless and gripping! Seeing X as a man on the stage telling his fans "Thank You" in his own way was powerful and I could not remember ever seeing a performance like it.
Just like when I first saw that Paparazzi video with X on the beach with a stringed orchestra backing him, it was so good to see X do it again 10 years later.
Xzibit influenced my style when I used to rap as "Kid Kikit", and his music still influences me today. I started making "Orchestrated Hip-Hop" in 2001 because it's in me. "Thank You" to Xzibit for helping bring it out.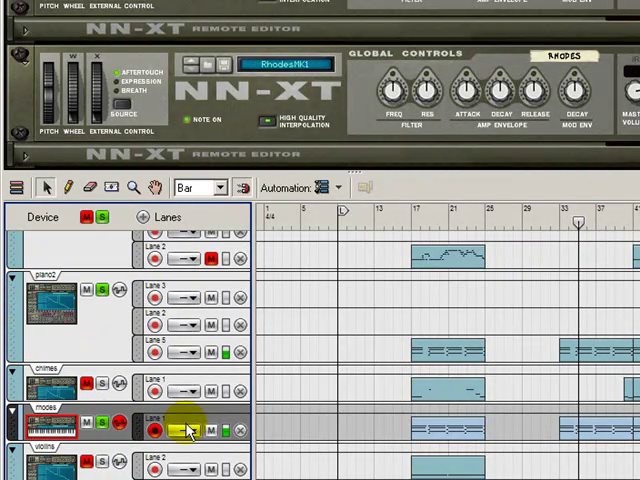 Make Sample Flip Beats with Reason: The Making of "For My Soul" (Part 3 of 5)
For My Soul Sample Flip Beat Tutorial Part 3
Learn how to chop and flip samples using Propellerhead Reason and the M-Audio Oxygen25 USB/MIDI keyboard controller.
In this video, I show you "How I Reason" by covering the following:
In Part 3:
- Propellerhead Reason 4
- Using Automation
- Song Arrangement
- Using the Flipped Sample to Create New Music
- Creating a Bassline from the Flipped Sample
- Automated Filtering
- Piano Parts
Time: 8:39
---
Share on social media
TaurusBeats uses AddThis share buttons so you can easily share your favorite content from this site to your Facebook, Twitter, and more.
To share this on social media, click on the share icons. You will be prompted to connect your social media account if you have not already.
Thank you for sharing!
---
Comments