Media: Hip Hop Sample Flip Beat, Funk Groove –
Media: Hip Hop Sample Flip Beat, Funk Groove –
Polished
Polished
by Taurus James
Sample Flip
98
6:29

Found in...
Stirred Not Shaken
Image: – Hip Hop Sample Flip Beat, Funk Groove – TaurusBeats
Hip Hop Sample Flip Beat, Funk Groove for Story Rap or Video
Make Beats with Reason: "Polished" Sample Flip Beat
This is one of the sample flip beats in my latest Moody instruMental Music collection "Stirred Not Shaken" and you can download it at TaurusBeats.com.
Watch me flip the sample and then add the piano parts and the rest of the instrumentation.
I'm using Propellerhead Reason 6.5 and the Yamaha DJX MIDI keyboard as a controller to trigger all instrument sounds in Reason. I'm showing you how to make Moody instruMental Music using Reason as I create another one of my Moody instruMental Music creations - "Polished".
Follow me on Facebook, Twitter, Soundcloud etc. and I'll see you there! =)
Thank you for your support.
Grace and Peace!
Taurus M. James
"Polished"
Moody instruMental Music
Copyright 2013 by Taurus M. James
Some Rights Reserved.
â–ºMy Blog: http://TaurusJames.com
â–ºMy Facebook: http://facebook.com/TaurusBeats
â–ºMy Twitter: http://twitter.com/TaurusBeats
â–ºMy Soundcloud: http://soundcloud.com/taurusbeats
â–ºMy Music Playlist: Coming Soon!
Sample Facts
LOCATING SAMPLE INFO...
Artist:
Album:
Released:
Writer:
Label:
Producer:
how to make beats
Stirred Not Shaken
Building 429
We Won't Be Shaken
MUSIC Type
instrumental, remix, sample flip
MUSIC Use Suggestions
dancing, party, background, commercial, advertisement, ads
MUSIC Tempo
94bpm (Medium 81bpm - 110bpm)
MUSIC Themes
world, international, party, movies, christmas, entertainment
MUSIC Moods
abstract, repetitive, builds, grows, busy, catchy, dramatic, adventurous, fun, strong, bold, confident, determined, epic
INSTRUMENTS
symphonic band, drums, percussion, bass, world guitar, keyboard, piano, orchestra, strings, cello, upright bass, string section, vocal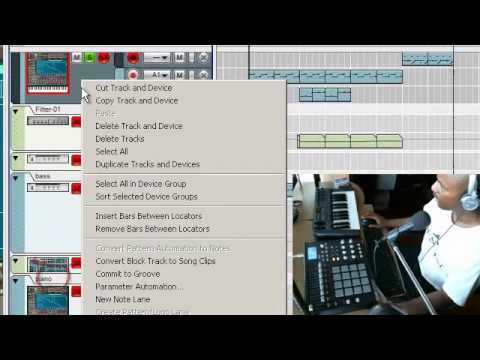 How To Lock Akai MPD32 or Oxygen 25 Controller to a Device in Reason
This video shows how to lock a single USB/MIDI controller, like the the Akai MPD32, to a device in Propellerhead Reason, like the NN-XT Sdvanced Sampler (or any other Reason device).
Beatmaking tutorial - Akai MPD32 - Oxygen 25 - How to Lock MPD32 to a Device in Reason
In this video, I discuss:
- MPD32 USB/MIDI Controller
- Using Multiple Controllers (USB/MIDI control surfaces) in Reason
- Reason Preferences
- Having Multiple Controllers in Reason
- Using MIDI-only Keyboards as Controllers in Reason
- Step-by-step locking of Akai MPD32 to an NN-XT sampler in Reason
Time: 6:47
This post is about: Locking controllers, lock control surface, MPD32, Reason, Akai MPD32, Oxygen25, MPD32 setup, MPD, Oxygen 25, multiple controllers in reason
"XinXan" Original, cinematic, television theme - Moody instruMental Music by Taurus M. James
XinXan is a cinematic dramatic television theme or film music.
This is another original cinematic track,
Made for XinXan Moody instruMental Music Collection
XinXan | Film Music | Moody instruMental Music
Genre: Hip-Hop, Cinematic, Soundtrack (Television theme, Film), Orchestrated Hip-Hop, Beat
Mood(s):Aggressive/Driving, Angry, Cinematic, Dark/Mysterious, Dramatic, Urgent/Impassioned
Tempo:Mid-Tempo 97 BPM
Other Tags: orchestrated hip-hop music, preview, piano, orchestra
IMPORTANT NOTICE:
IMPORTANT: This song contains a sample. If you purchase a license to use this song, you are responsible for clearing the sample for use in your project. Contact me if you want to license a version of this song without the sample.
---
Got something to say? Sign up or login to participate in the conversation.