Rukus
Rukus
by Taurus M. James (ASCAP)
Ad Film Soundtrack TV
108
3:20

Found in...
Final Hour Music 1
File Format: .mp3
File Size: 3.10 MB
Bitrate : 128 Kbits
Frequency : 44100 HZ
Length : 03:20 Min/Sec
(Taurus M. James, ITNOJ Music, ASCAP)
This recording (c) 2003 Taurus M. James. All Rights Reserved. International Copyright Secured. Any use, transmission, broadcast, synchronization, or reproduction without owner consent is prohibited.
MUSIC Type
vocal, instrumental, remix, a capella, minimal, sample flip
MUSIC Use Suggestions
exercise, fitness, running, dancing, party, background, commercial, advertisement, ads, road trip
MUSIC Tempo
94bpm (Medium 81bpm - 110bpm)
MUSIC Themes
world, international, wild west, nature, horror, relation, shopping, fashion, party, sports, 1920s, american history, tropical, kids, sci-fi, technology, 1960s, biker, punks, high class, , religious, holidays, farm, rural, fantasy, movies, christmas, entertainment, showbix, 1950s, places, 1970s, education, action, mystery, crime, las vegas, 1980s, martial arts, runnung, fitness, driving, road trips
MUSIC Moods
abstract, repetitive, robotic, mechanical, scientific, futuristic, sparse, atmospheric, ambient, dreamy, elegant, graceful, ethereal, heavenly, hypnotic, lush, magical, panoramic, pastoral, shimmering, swirling, trippy, builds, grows, busy, catchy, dramatic, adventurous, angry, dangerous, dark, eerie, haunting, evil, sinister, fearful, mean, tough, mysterious, ominous, paranoid, scary, stealthy, strange, weird, suspenseful, uneasy, earthy, organic, emotional, anticipation, anxious, childlike, demure, disappointed, heartwarming, introspective, lonely, nostalgic, reflective, poignant, sentimental, thoughtful, energetic, aggressive, driving, lively, hi-energy, rowdy, urgent, wild, frantic, erotic, naughty, raunchy, sexy, fun, comical, humorous, drunken, whimsical, insistent, Positive, optimistic, bright, carefree, happy, joyful, inspirational, uplifting, satisfied, contented, upbeat, punchy, quirky, relaxed, laid back, lazy, peaceful, calm, romantic, passionate, sensual, tender, sad, depressing, melanchoiy, melodramatic, strong, anthemic, bold, confident, determined, epic, majestic, noble, dignified, patriotic, powerful, sophisticated, victorious
INSTRUMENTS
brass, bugle, french horn, trombone, trumpet, tuba, horn section, big bamd, brass band, drumline, marching band, rock band, symphonic band, drums, percussion, guitar, bass, world guitar, lute, dulcimer, keyboard, harpsichord, organ, piano, orchestra, hits, stabs, reeds, woods, wooswinds, accordion, bassoon, clarinet, english horn, flute, oboe, piccolo, recorder, saxophone, badpipes, didgeridoo, duduk, strings, cello, celtic harp, fiddle, harp, pissicato, viola, violin, upright bass, string section, synth, synthisizer, vocal, a capella, beat box, chikd, chanting, choir, gregorian chant, opera, scat, male, female, vocoder, whispering
This post is about: flip a sample, sample flip, sample flip beats, sample flipping, sampling, samples, slicing, chopping, sample slicing, sample chopping
It may seem like a dumb question, but people are dead serious when they ask, "What does 'Flip a sample' mean?" It's actually a good question that goes back to sampling, making beats with samples or using samples in beats.
I made this FREE video on sample flipping to answer the question, "What does FLIP A SAMPLE mean?"
My Sample Flip Beats and video tutorials on How to Flip a Sample and Making Sample Flip Beats go into more detail about sample flipping, sample chopping and sample slicing. These videos demonstrate and explain the process I use when I flip a sample.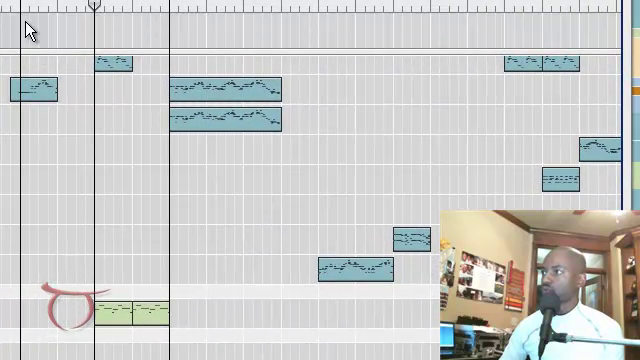 Make Sample Flip Beats with Reason: Making the Sample Flip Beat "Closer" (Part 5 of 6)
Closer Sample Flip Beat Part 5
Learn how to make sample flip beats using Propellerhead Reason and the M-Audio Oxygen25 USB/MIDI keyboard controller.
In this video, I show you "How I Reason" by covering the following:
In Part 5:
- Propellerhead Reason 4
- Slicing Samples in ReCycle 2.1
- Propellerhead ReCycle 2.1 Autoslice feature
- ReCycle 2.1 Transient Shaper
- Loading Samples into Reason 4 NN-XT Sampler
- Using MPD32 with Reason 4 to act as a "poor man's" MPC (Fake MPC Feel)
- Select Zone via MIDI feature in NN-XT
Time: 13:59
---
Got something to say? Sign up or login to participate in the conversation.