Media: Orchestrated Hip-Hop, Cinematic, Soundtrack Film Music by TaurusBeats –
Run
Run
by Taurus M. James (ASCAP)
Ad Film Soundtrack TV
94
3:34

Found in...
My Soundtrack
Image: – Orchestrated Hip-Hop, Cinematic, Soundtrack Film Music by TaurusBeats – TaurusBeats
Genre(s): Orchestrated Hip-Hop, Cinematic, Soundtrack (Television theme, Film, Video Game)
Mood(s): Aggressive/Driving, Angry, Cinematic, Dark/Mysterious, Dramatic, Somber/Dark, Urgent/Impassioned
Tempo: Mid-Tempo 94 BPM
Other Tags: edgy piano, classical, emotional
Hard-hitting instrumental track that incorporates orchestrated movements over hip-hop beats. This is one of my first Orchestrated Hip-Hop tracks.
I made this one with the idea/scene in my head of a woman running through the woods. It's not quite dark, but it's foggy. It is not clear exactly whether she is running from something or to something. Determination is on her face - not fear.
File Format: .mp3
File Size: 4.68 MB
Bitrate : 192 Kbits
Frequency : 44100 HZ
Length : 04:41 Min/Sec
(Taurus M. James, ITNOJ Music, ASCAP)
This recording (c) 2003 Taurus M. James. All Rights Reserved. International Copyright Secured. Any use, transmission, broadcast, synchronization, or reproduction without owner consent is prohibited.
MUSIC Type
original, instrumental, cinematic, soundtrack
MUSIC Use Suggestions
soundtrack, background, commercial, advertisement, ads, film, movie, video game
MUSIC Tempo
94bpm (Medium 81bpm - 110bpm)
MUSIC Themes
world, international, sci-fi, technology, fantasy, movies, action, mystery, crime
MUSIC Moods
robotic, mechanical, scientific, futuristic, dramatic, adventurous, angry, dangerous, dark, eerie, haunting, evil, sinister, fearful, mean, tough, mysterious, ominous, paranoid, scary, strange, weird, uneasy, earthy, anticipation, anxious, aggressive, driving, melodramatic, strong, bold, confident, determined, powerful
INSTRUMENTS
drums, percussion, guitar, bass, keyboard, piano, orchestra, woods, wooswinds, clarinet, flute, oboe, piccolo, strings, cello, pissicato, viola, violin, string section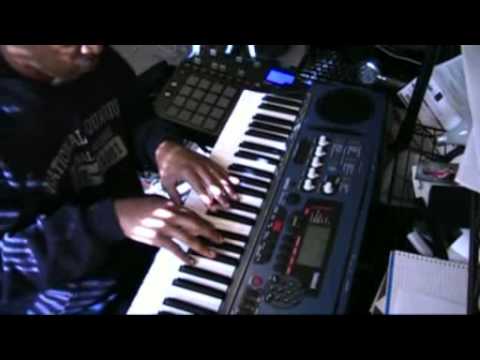 Piano Freestyles Video Series - Midday Vibe
Beatmaking tutorial - Piano Freestyles - How to Make Beats - Midday Vibe
Watch me make Moody instuMental Music using Propellerhead Reason 4.01 Akai MPD32 USB/MIDI hardware control surface and the Yamaha DJX MIDI keyboard.
In this video, I'm just practicing - doing a lot of impromptu playing (improvisation) around with a smooth beat I made using Propellerhead Reason.
Moody instruMental Music by Taurus M. James
"Midday Vibe"
Copyright 2010 by Taurus M. James - ASCAP
Time: 6:13
This post is about: piano freestyle, piano improvisation, piano, piano mechanics, ear training, make beats, beatmaking
The Way - reason 4 beat instrumental sample flip piano beat
This is a sample-flip beat video / piano music video combination showing how I create moody instrumental music with a ton of piano improvisation and playing by ear. In the beginning of the video, I flip a sample to make a background beat and then later, I improvise on the piano after figuring out the key the beat is in by ear. I develop the rest of the piano parts and instrumentation into the final song. I mad this beat using Propellerhead Reason 4, the Akai MPD32 and the M-Audio Oxygen8 v2 MIDI controllers.
---
Got something to say? Sign up or login to participate in the conversation.