Member Sign-in Required
This area is for members who are signed in.
Sign In or Sign Up
To view the rest of this article, sign in or sign up.
Unlock articles and content downloads.
Sample Flipping Propellerhead Reason Video Series Part 2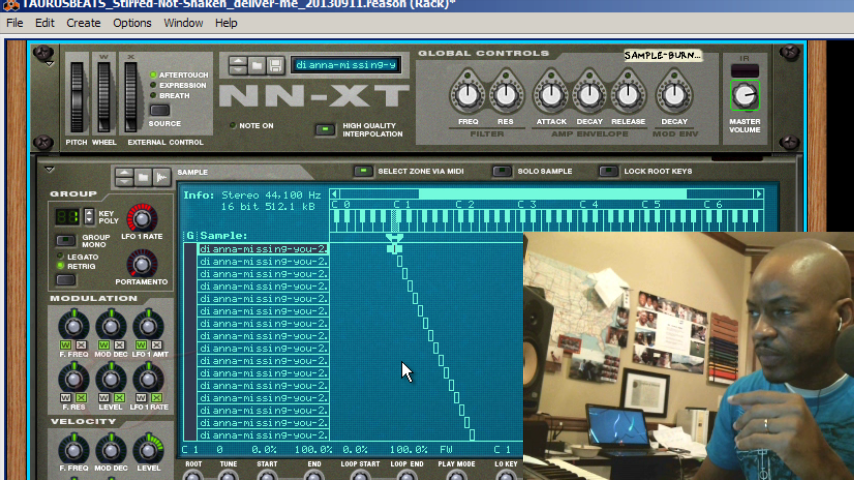 Image: – TaurusBeats shows how to Sample Flip using Propellerhead Reason NNXT Pitch Controls Part 2 of 3 – TaurusBeats
The NNXT Advanced Sampler in Propellerhead Reason allows more control over the samples when making sample flip beats. Use the pitch controls in the NNXT to discover sample flip patterns and tune your samples to the devices in Reason when necessary.
Sample Flipping Using Reason NNXT (Part 2 0f 3) - Sample Pitch controls
Here's part 2 of the video series showing how to make a sample flip beat by flipping sample slices using the Propellerhead Reason NN-XT Advanced Sampler.
Sample Flip Beat - Beatmaking tutorial - Sample Flip - How to flip samples - Chopping Samples - NNXT - NN-XT Advanced Sampler
In this video, I show you "How I Reason" by covering the following:
Part 2:
- Changing Sample Pitch
- Differences between Octave vs Semi vs Fine and how to use for sample flipping
- Tips on the benefits of having "irregular" sample chops
Time: 8:11
Sample Flipping Propellerhead Reason Videos Series Part 2 Using NNXT (NN-XT) Pitch Controls
This video is about: sample chop, sample flip, flip a sample, chop a sample, sampling, music sampling, Sample Chopping, Sony Soundforge, Propellerhead, ReCycle, sample Flipping, Propellerheads, Reason, software Akai, MPD32, Pad controller