---
Like, Comment, Share
Sat AM
Sat AM
by Taurus M. James (ASCAP)
Ad Film Soundtrack TV
84
5:02

Found in...
Final Hour Music 1
Image: – – TaurusBeats
This is a nice downtempo/chill track to lounge to on a Saturday AM.
File Format: .mp3
File Size: 4.68 MB
Bitrate : 128 Kbits
Frequency : 44100 HZ
Length : 05:02 Min/Sec
(Taurus M. James, ITNOJ Music, ASCAP)
This recording (c) 2003 Taurus M. James. All Rights Reserved. International Copyright Secured. Any use, transmission, broadcast, synchronization, or reproduction without owner consent is prohibited.
MUSIC Type
vocal, instrumental, remix, a capella, minimal, sample flip
MUSIC Use Suggestions
exercise, fitness, running, dancing, party, background, commercial, advertisement, ads, road trip
MUSIC Tempo
94bpm (Medium 81bpm - 110bpm)
MUSIC Themes
world, international, wild west, nature, horror, relation, shopping, fashion, party, sports, 1920s, american history, tropical, kids, sci-fi, technology, 1960s, biker, punks, high class, , religious, holidays, farm, rural, fantasy, movies, christmas, entertainment, showbix, 1950s, places, 1970s, education, action, mystery, crime, las vegas, 1980s, martial arts, runnung, fitness, driving, road trips
MUSIC Moods
abstract, repetitive, robotic, mechanical, scientific, futuristic, sparse, atmospheric, ambient, dreamy, elegant, graceful, ethereal, heavenly, hypnotic, lush, magical, panoramic, pastoral, shimmering, swirling, trippy, builds, grows, busy, catchy, dramatic, adventurous, angry, dangerous, dark, eerie, haunting, evil, sinister, fearful, mean, tough, mysterious, ominous, paranoid, scary, stealthy, strange, weird, suspenseful, uneasy, earthy, organic, emotional, anticipation, anxious, childlike, demure, disappointed, heartwarming, introspective, lonely, nostalgic, reflective, poignant, sentimental, thoughtful, energetic, aggressive, driving, lively, hi-energy, rowdy, urgent, wild, frantic, erotic, naughty, raunchy, sexy, fun, comical, humorous, drunken, whimsical, insistent, Positive, optimistic, bright, carefree, happy, joyful, inspirational, uplifting, satisfied, contented, upbeat, punchy, quirky, relaxed, laid back, lazy, peaceful, calm, romantic, passionate, sensual, tender, sad, depressing, melanchoiy, melodramatic, strong, anthemic, bold, confident, determined, epic, majestic, noble, dignified, patriotic, powerful, sophisticated, victorious
INSTRUMENTS
brass, bugle, french horn, trombone, trumpet, tuba, horn section, big bamd, brass band, drumline, marching band, rock band, symphonic band, drums, percussion, guitar, bass, world guitar, lute, dulcimer, keyboard, harpsichord, organ, piano, orchestra, hits, stabs, reeds, woods, wooswinds, accordion, bassoon, clarinet, english horn, flute, oboe, piccolo, recorder, saxophone, badpipes, didgeridoo, duduk, strings, cello, celtic harp, fiddle, harp, pissicato, viola, violin, upright bass, string section, synth, synthisizer, vocal, a capella, beat box, chikd, chanting, choir, gregorian chant, opera, scat, male, female, vocoder, whispering
---
See also...
Genre: Soundtrack
From the "Soul On Fire" collection.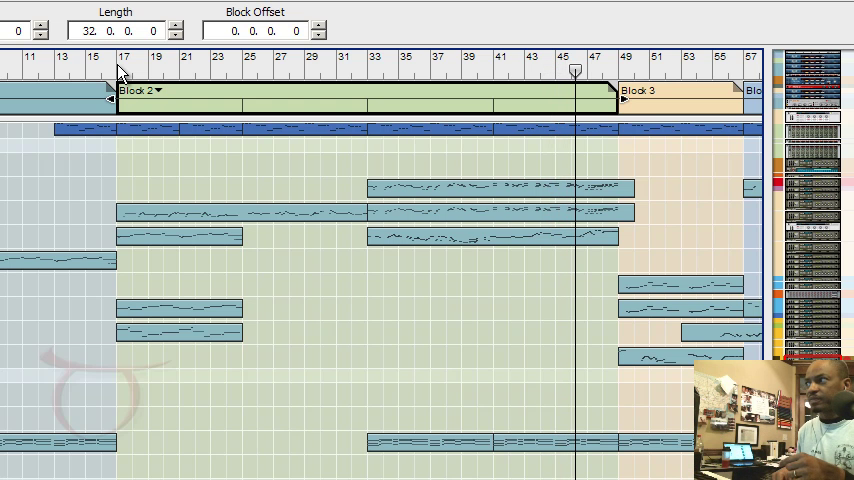 Beat Structure Walk-through
The CAKE Moody Instrumental Music Remix walk-through continues in this Beatmaking tutorial video. TaurusBeats covers beat structure and how to arrange beat parts to move the listener through the beat. Watch as TaurusBeats explains beat structure and arrangement, in detail, in part 2 of 5 in this beat tutorial video series. The Making of "CAKE" - the Moody Instrumental Music (Mood Music) version of Pound Cake by Drake.
Pound Cake Moody Instrumental Music Beat Structure Arrangement - Part 2 of 5
Here's part 2 of the video series showing the making of the Moody Instrumental Music Remix of Drake's Pound Cake and explaining the song structure / beat arrangement.
Beatmaking tutorial - Song Structure - How to arrange beat parts - The Making of the Moody Instrumental Music version of Pound Cake (Drake) - "Cake"
In This Beat Tutorial Video...
- Beat Structure Walkthrough of verses and choruses
- Verse One Beat Structure
- Verse Two Beat Structure
- Piano solo development using layering techniwue
- Instrumentation change-ups within verses
- Continuous buildup to a climax as song progresses
- Counting Bars (Measures)
Pound Cake Moody Instrumental Music Remix Beat Structure Arrangement Video Series Part 2
Time: 6:03
This post is about: Pound Cake, Drake, Remix, Hip Hop, Beat, Song, Arrangement, arrange, arranging
---
Share on social media
TaurusBeats uses AddThis share buttons so you can easily share your favorite content from this site to your Facebook, Twitter, and more.
To share this on social media, click on the share icons. You will be prompted to connect your social media account if you have not already.
Thank you for sharing!
---
Comments