---
Like, Comment, Share
Slow Day
Slow Day
by Taurus M. James (ASCAP)
Ad Film Soundtrack TV
88
4:02

Found in...
Final Hour Music 1
Image: – – TaurusBeats
Genre(s): Soundtrack, DownTempo, Electronic
Mood(s): Agitated, Dramatic, Dark, Somber, Reflective, Sad
Tempo: Mid-tempo
File Format: .mp3
File Size: 3.75 MB
Bitrate : 128 Kbits
Frequency : 44100 HZ
Length : 04:02 Min/Sec
(Taurus M. James, ITNOJ Music, ASCAP)
This recording (c) 2003 Taurus M. James. All Rights Reserved. International Copyright Secured. Any use, transmission, broadcast, synchronization, or reproduction without owner consent is prohibited.
MUSIC Type
vocal, instrumental, remix, a capella, minimal, sample flip
MUSIC Use Suggestions
exercise, fitness, running, dancing, party, background, commercial, advertisement, ads, road trip
MUSIC Tempo
94bpm (Medium 81bpm - 110bpm)
MUSIC Themes
world, international, wild west, nature, horror, relation, shopping, fashion, party, sports, 1920s, american history, tropical, kids, sci-fi, technology, 1960s, biker, punks, high class, , religious, holidays, farm, rural, fantasy, movies, christmas, entertainment, showbix, 1950s, places, 1970s, education, action, mystery, crime, las vegas, 1980s, martial arts, runnung, fitness, driving, road trips
MUSIC Moods
abstract, repetitive, robotic, mechanical, scientific, futuristic, sparse, atmospheric, ambient, dreamy, elegant, graceful, ethereal, heavenly, hypnotic, lush, magical, panoramic, pastoral, shimmering, swirling, trippy, builds, grows, busy, catchy, dramatic, adventurous, angry, dangerous, dark, eerie, haunting, evil, sinister, fearful, mean, tough, mysterious, ominous, paranoid, scary, stealthy, strange, weird, suspenseful, uneasy, earthy, organic, emotional, anticipation, anxious, childlike, demure, disappointed, heartwarming, introspective, lonely, nostalgic, reflective, poignant, sentimental, thoughtful, energetic, aggressive, driving, lively, hi-energy, rowdy, urgent, wild, frantic, erotic, naughty, raunchy, sexy, fun, comical, humorous, drunken, whimsical, insistent, Positive, optimistic, bright, carefree, happy, joyful, inspirational, uplifting, satisfied, contented, upbeat, punchy, quirky, relaxed, laid back, lazy, peaceful, calm, romantic, passionate, sensual, tender, sad, depressing, melanchoiy, melodramatic, strong, anthemic, bold, confident, determined, epic, majestic, noble, dignified, patriotic, powerful, sophisticated, victorious
INSTRUMENTS
brass, bugle, french horn, trombone, trumpet, tuba, horn section, big bamd, brass band, drumline, marching band, rock band, symphonic band, drums, percussion, guitar, bass, world guitar, lute, dulcimer, keyboard, harpsichord, organ, piano, orchestra, hits, stabs, reeds, woods, wooswinds, accordion, bassoon, clarinet, english horn, flute, oboe, piccolo, recorder, saxophone, badpipes, didgeridoo, duduk, strings, cello, celtic harp, fiddle, harp, pissicato, viola, violin, upright bass, string section, synth, synthisizer, vocal, a capella, beat box, chikd, chanting, choir, gregorian chant, opera, scat, male, female, vocoder, whispering
---
See also...
Flo is the track that started this whole collection. I came up with the idea of making a collection with the same beat (structure) after creating this track. I wanted to see if I could develop a collection that canges moods while keeping the same pace. So much of what I make here on TaurusBeats.com has such a heavy emphasis on the BEATS, I wanted to make the actual beats less important. The challenge is to make each song interesting enough on its own to keep the collection as a whole from being boring.
Flo - Make Beats w/ Reason, Yamaha DJX - Recording Piano Parts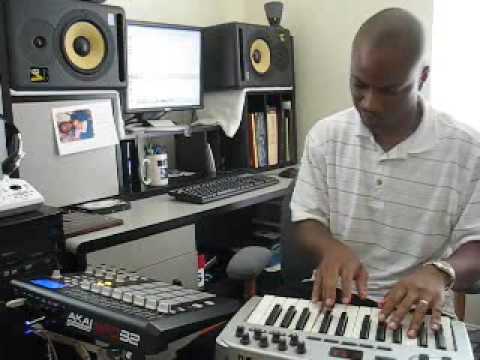 i received the following message from one of my followers about learning how to play piano. Check it out. Then, find out why I stress this point: Teach yourself piano!
Message from my follower:
Sup Taurus,
I've tried teaching myself keys a few times...I don't know if it's that I don't have the patience, or maybe i've approached it wrong, or it could be that i wasn't inspired by my old yamaha keyboard with mid size keys, but I never got anywhere with it.
Even though there are many keyboard/piano tutorials on youtube, I think it'd be fresh if you could do a vid talking about the approach you took to teach yourself. Like how did you learn scales? What would your practicing consist of? Did you learn on that 25key jawn!? Anyway, I think cats would appreciate something like this. I know I would.
Peace
---
Share on social media
TaurusBeats uses AddThis share buttons so you can easily share your favorite content from this site to your Facebook, Twitter, and more.
To share this on social media, click on the share icons. You will be prompted to connect your social media account if you have not already.
Thank you for sharing!
---
Comments