---
Like, Comment, Share
Spirits In The Machine
Spirits In The Machine
by Taurus James
Hip-Hop
95
5:33

Found in...
CA2VA
Image: – – TaurusBeats
Spirits In The Machine is an experimental, sample flip, Hip-Hop beat.
Sample Facts
LOCATING SAMPLE INFO...
Artist:
Album:
Released:
Writer:
Label:
Producer:

MUSIC Type
vocal, instrumental, remix, a capella, minimal, sample flip
MUSIC Use Suggestions
exercise, fitness, running, dancing, party, background, commercial, advertisement, ads, road trip
MUSIC Tempo
94bpm (Medium 81bpm - 110bpm)
MUSIC Themes
world, international, wild west, nature, horror, relation, shopping, fashion, party, sports, 1920s, american history, tropical, kids, sci-fi, technology, 1960s, biker, punks, high class, , religious, holidays, farm, rural, fantasy, movies, christmas, entertainment, showbix, 1950s, places, 1970s, education, action, mystery, crime, las vegas, 1980s, martial arts, runnung, fitness, driving, road trips
MUSIC Moods
abstract, repetitive, robotic, mechanical, scientific, futuristic, sparse, atmospheric, ambient, dreamy, elegant, graceful, ethereal, heavenly, hypnotic, lush, magical, panoramic, pastoral, shimmering, swirling, trippy, builds, grows, busy, catchy, dramatic, adventurous, angry, dangerous, dark, eerie, haunting, evil, sinister, fearful, mean, tough, mysterious, ominous, paranoid, scary, stealthy, strange, weird, suspenseful, uneasy, earthy, organic, emotional, anticipation, anxious, childlike, demure, disappointed, heartwarming, introspective, lonely, nostalgic, reflective, poignant, sentimental, thoughtful, energetic, aggressive, driving, lively, hi-energy, rowdy, urgent, wild, frantic, erotic, naughty, raunchy, sexy, fun, comical, humorous, drunken, whimsical, insistent, Positive, optimistic, bright, carefree, happy, joyful, inspirational, uplifting, satisfied, contented, upbeat, punchy, quirky, relaxed, laid back, lazy, peaceful, calm, romantic, passionate, sensual, tender, sad, depressing, melanchoiy, melodramatic, strong, anthemic, bold, confident, determined, epic, majestic, noble, dignified, patriotic, powerful, sophisticated, victorious
INSTRUMENTS
brass, bugle, french horn, trombone, trumpet, tuba, horn section, big bamd, brass band, drumline, marching band, rock band, symphonic band, drums, percussion, guitar, bass, world guitar, lute, dulcimer, keyboard, harpsichord, organ, piano, orchestra, hits, stabs, reeds, woods, wooswinds, accordion, bassoon, clarinet, english horn, flute, oboe, piccolo, recorder, saxophone, badpipes, didgeridoo, duduk, strings, cello, celtic harp, fiddle, harp, pissicato, viola, violin, upright bass, string section, synth, synthisizer, vocal, a capella, beat box, chikd, chanting, choir, gregorian chant, opera, scat, male, female, vocoder, whispering
---
See also...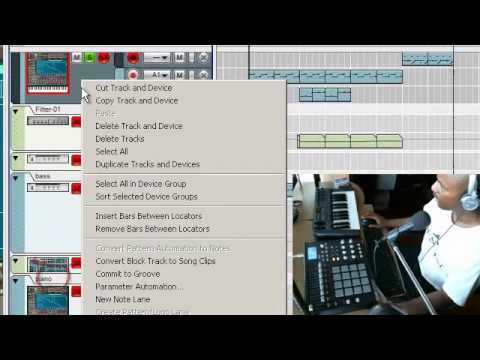 How To Lock Akai MPD32 or Oxygen 25 Controller to a Device in Reason
This video shows how to lock a single USB/MIDI controller, like the the Akai MPD32, to a device in Propellerhead Reason, like the NN-XT Sdvanced Sampler (or any other Reason device).
Beatmaking tutorial - Akai MPD32 - Oxygen 25 - How to Lock MPD32 to a Device in Reason
In this video, I discuss:
- MPD32 USB/MIDI Controller
- Using Multiple Controllers (USB/MIDI control surfaces) in Reason
- Reason Preferences
- Having Multiple Controllers in Reason
- Using MIDI-only Keyboards as Controllers in Reason
- Step-by-step locking of Akai MPD32 to an NN-XT sampler in Reason
Time: 6:47
This post is about: Locking controllers, lock control surface, MPD32, Reason, Akai MPD32, Oxygen25, MPD32 setup, MPD, Oxygen 25, multiple controllers in reason
Genre(s): Easy Listening, Soundtrack (Television theme, Film, Game)
Mood(s): Reflective, Somber, Romantic, Cinematic, Dramatic
Tempo: Mid-Tempo 103 BPM
Other Descriptions: preview, piano, orchestra, relaxing, smooth, relax, work, listen, drive
---
Share on social media
TaurusBeats uses AddThis share buttons so you can easily share your favorite content from this site to your Facebook, Twitter, and more.
To share this on social media, click on the share icons. You will be prompted to connect your social media account if you have not already.
Thank you for sharing!
---
Comments