Still WHAAT
Still WHAAT
by Taurus M. James

80
5:51

Found in...
Final Hour Music 2
Genre: Soundtrack (Television theme, Film, Game), Hip-Hop, DownTempo, Ambient
Mood(s): Focused, Cinematic, Dark, Eerie/Ethereal, Dramatic, Intense/Foreboding, Somber/Dark, Urgent/Impassioned
Tempo: Slow 80 BPM
Other Tags: edgy piano music
I wanted this track to be focused. This is my eternal proclamation that I'm Still With Him At All Times!
(Taurus M. James, ITNOJ Music, ASCAP)
This recording (c) 2003 Taurus M. James. All Rights Reserved. International Copyright Secured. Any use, transmission, broadcast, synchronization, or reproduction without owner consent is prohibited.
MUSIC Type
vocal, instrumental, remix, a capella, minimal, sample flip
MUSIC Use Suggestions
exercise, fitness, running, dancing, party, background, commercial, advertisement, ads, road trip
MUSIC Tempo
94bpm (Medium 81bpm - 110bpm)
MUSIC Themes
world, international, wild west, nature, horror, relation, shopping, fashion, party, sports, 1920s, american history, tropical, kids, sci-fi, technology, 1960s, biker, punks, high class, , religious, holidays, farm, rural, fantasy, movies, christmas, entertainment, showbix, 1950s, places, 1970s, education, action, mystery, crime, las vegas, 1980s, martial arts, runnung, fitness, driving, road trips
MUSIC Moods
abstract, repetitive, robotic, mechanical, scientific, futuristic, sparse, atmospheric, ambient, dreamy, elegant, graceful, ethereal, heavenly, hypnotic, lush, magical, panoramic, pastoral, shimmering, swirling, trippy, builds, grows, busy, catchy, dramatic, adventurous, angry, dangerous, dark, eerie, haunting, evil, sinister, fearful, mean, tough, mysterious, ominous, paranoid, scary, stealthy, strange, weird, suspenseful, uneasy, earthy, organic, emotional, anticipation, anxious, childlike, demure, disappointed, heartwarming, introspective, lonely, nostalgic, reflective, poignant, sentimental, thoughtful, energetic, aggressive, driving, lively, hi-energy, rowdy, urgent, wild, frantic, erotic, naughty, raunchy, sexy, fun, comical, humorous, drunken, whimsical, insistent, Positive, optimistic, bright, carefree, happy, joyful, inspirational, uplifting, satisfied, contented, upbeat, punchy, quirky, relaxed, laid back, lazy, peaceful, calm, romantic, passionate, sensual, tender, sad, depressing, melanchoiy, melodramatic, strong, anthemic, bold, confident, determined, epic, majestic, noble, dignified, patriotic, powerful, sophisticated, victorious
INSTRUMENTS
brass, bugle, french horn, trombone, trumpet, tuba, horn section, big bamd, brass band, drumline, marching band, rock band, symphonic band, drums, percussion, guitar, bass, world guitar, lute, dulcimer, keyboard, harpsichord, organ, piano, orchestra, hits, stabs, reeds, woods, wooswinds, accordion, bassoon, clarinet, english horn, flute, oboe, piccolo, recorder, saxophone, badpipes, didgeridoo, duduk, strings, cello, celtic harp, fiddle, harp, pissicato, viola, violin, upright bass, string section, synth, synthisizer, vocal, a capella, beat box, chikd, chanting, choir, gregorian chant, opera, scat, male, female, vocoder, whispering
Just who is this "Kid Kikit" character anyway?
Who is Kid Kikit? TaurusBeats aka Taurus M. James Rapper Alter Ego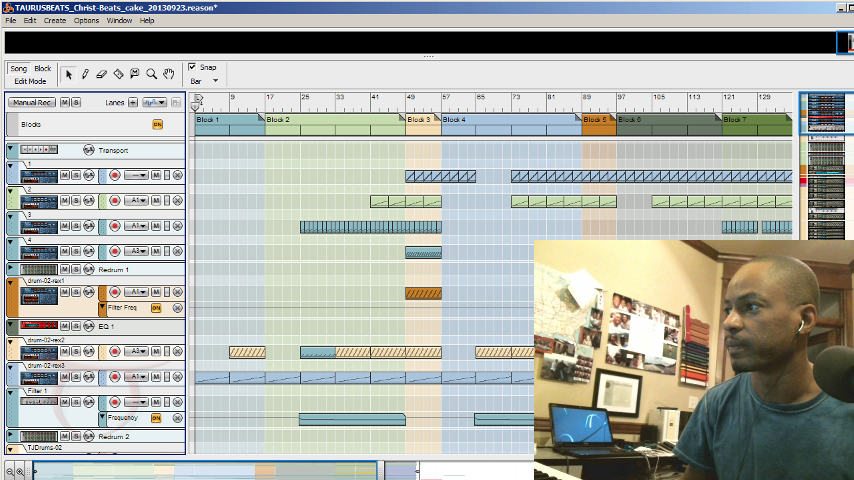 Making "Cake" (Part 5 of 5) - Moody Instrumental Music Inspired by Drake's Pound Cake
Pound Cake Moody Instrumental Remix Video Series - Part 5
Learn how to make instrumental music using Propellerhead Reason and the Yamaha DJX MIDI keyboard as a controller.
Part 5:
- Final version of the song "Cake"
Time: 6:49
This video is about: Pound Cake, Drake, Remix, Hip Hop, Beat, Song, Arrangement, arrange, Sample, how to make beats, instrumental beats, rap beats ,instrumental, reason, beats instrumental, instrumentals, music, music video, hip hop, Making of, rnb soul, Rap, yamaha djx
Genre: Soundtrack (Television theme, Film, Game)Hip-Hop, Downtempo, Ambient, Funk, Fusion
Genre(s): Easy Listening, Soundtrack (Television theme, Film, Game), RnB, Downtempo, Ambient
Mood(s): Romantic, Mellow
Tempo: Mid-tempo 94 BPM
Other Tags: smooth, relaxing, experimental
Genre(s): Easy Listening, RnB, Fusion, Adult Contemporary
Mood(s): Happy, Reflective, Romantic, Mellow
Tempo: Mid-tempo 95 BPM
Other Descriptions: smooth, relax, drive, experimental, preview, piano
---
Got something to say? Sign up or login to participate in the conversation.