Media: TaurusBeats Music On CMA Weekly Homework Podcast 121 –
---
Like, Comment, Share
TaurusBeats Music On CMA Weekly Homework Podcast 121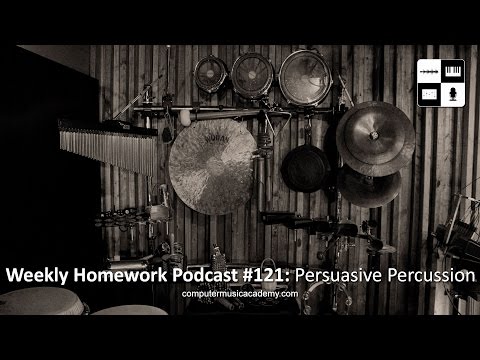 Image: – TaurusBeats Music On CMA Weekly Homework Podcast 121 – TaurusBeats
Check out AWESOME Music Producers and my original, moody instrumental music, "UNTOUCHED" on Persuasive Percussion - Weekly Homework Podcast #121
CMA:
http://computermusicacademy.com/blog/2016/05/weekly-homework-podcast-121/
Youtube:
https://youtu.be/EIgGuLXVKdw?t=51m20s
Start time - 51:20 - "Untouched" - Original, Mood Music
Persuasive Percussion - Weekly Homework Podcast #121
Weekly Homework Podcast #121
This week we're taking a journey to that one place in our sound library we rarely (or never) go… the Percussion zone. The instruments are essential to EVERY genre or style of music, but in many cases, it's an untapped resource. That all changes today. In this episode we have 14 people who made the trek. What they've discovered and brought back, is greatly inspiring.
This week we hear from:
LBIII
eHustle
Big Shad
RayGene
Kno1uKno
DJ Widebody
Okay Joey
One6Music
DIXI Freely
Gemini4d
DJ Lockturnal
TaurusBeats
RTO Beats
Mr. Wallace
Intro / Outro by RTO Beats
Buy Your Sounds!
Plugin Boutique: http://goo.gl/XnZO1m
Loopmasters: http://goo.gl/C6NSbH
Sample Logic: https://goo.gl/uAzT9D
Producer's Choice: http://goo.gl/RlMf4X
VST Buzz: http://goo.gl/9kea1N
Samples From Mars: http://goo.gl/Gq031U
The Loop Loft: http://goo.gl/MTHp3h
American Musical: http://goo.gl/ApjWqS
---
Share on social media
TaurusBeats uses AddThis share buttons so you can easily share your favorite content from this site to your Facebook, Twitter, and more.
To share this on social media, click on the share icons. You will be prompted to connect your social media account if you have not already.
Thank you for sharing!
---
Comments