Member Sign-in Required
This area is for members who are signed in.
Sign In or Sign Up
To view the rest of this article, sign in or sign up.
Unlock articles and content downloads.
Video Tutorials Welcome Message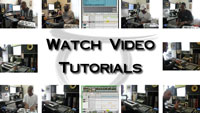 Image: – – TaurusBeats
Welcome to the Video Tutorials!
In the many videos that I have created, I cover things like Sample Chopping using Sony Sound Forge and Propellerhead ReCycle, and Sample Flipping using Propellerhead Reason software with the M-Audio Oxygen25 keyboard controller.
Time: 5:25
This post is about Sample Chopping, Sony Sound Forge, Propellerhead ReCycle, sample flipping, Propellerhead Reason, M-Audio, Oxygen25, Akai MPD32, keyboard controller