Akai MPD32
Question from a subscriber:
How do you add a sample in the akai mpd32?
Question from a subscriber:
hey man i jus wanted to let u know, ur music is a great inspiration to me. i have the same setup as u with reason 4 and the MPD32, except i have a keystation 49 instead of the oxygen. i noticed that in one of ur vids u used the mpd transport buttons to play the song, mine dont work like that and i cant figure out why. if u have any solutions to help out that would be great and much appreciated!!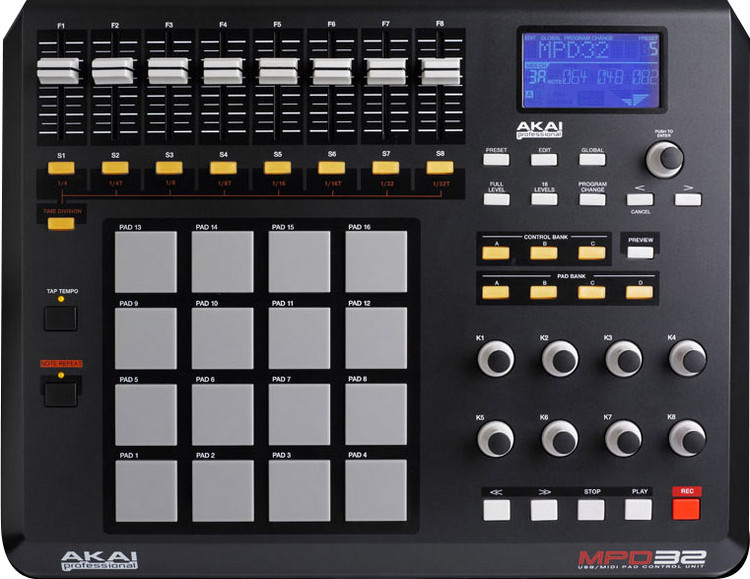 Here is a Question from one of my followers:
hey. i love your beats. their really good. i had a question. if i wanted to make a beat and sample one part out of another song, do you know if i could use an mpc to do that? could i if its an audio track on itunes?
This tutorial shows how to make pitched snare rolls heard in dirty south beats using Propellerhead Reason and the AkaiMPD32.
Also known as the snare roll build-up, the pitched snare roll is commonly used in electronic dance music, techno and trap music.
Learn how to make pitched snare rolls for trap beats using Akai MPD32 and Propellerhead Reason.
Question from a subscriber:
hello i come from Poland and a would like to know how you play on your akai mpd32. please help me. i don't now how put the panel transport to my reason transport don't play. i have reason 2.0. maybe this is problem. sorry to my write my English is little. peace
This post is about: MPD32, Reason, Akai MPD32, MPD32 setup, MPD
The Akai MPD32 is a MIDI-over-USB performance pad controller for DJs, programmers, producers, and others musicians. Built around the controls and technology from Akai Professional's industry-standard MPC series, the MPD32 is an expressive and intuitive instrument for the studio and stage.
The MPD32 sends MIDI information over its plug-and-play USB interface so you can use it with your Mac or PC without installing any drivers. The USB connection even powers the MPD32 so the included USB cable is all you need. It comes with a custom versions of Ableton Live Lite and FXpansion BFD Lite software so you can start creating right out of the box. In addition to Live and nearly any other MIDI software, you can also drive any MIDI hardware, such as synths, sound modules, samplers, sequencers, drum machines, and more.
Whether inspiration strikes you in the studio or on stage, the MPD32 gives you a comprehensive compliment of input and control devices matched with the peerless feel of the MPC -- only from Akai Professional.
Info related to the AKAI MPD32 MIDI Pad Controler.