Media: Original Piano, Moody Instrumental Music –
Blacks
Blacks
by Taurus James
Piano
90
5:24

Found in...
Christ Beats
Image: – Original Piano, Moody Instrumental Music – TaurusBeats
Strong emotional piano beat with epic orchestration.
"Blacks" Original Piano Beat - Moody instruMental Music by Taurus M. James
Originally named "Black's Theme", this is one of the original piano beats in my latest Moody instruMental Music collection "Christ Beats" available for you to download here at TaurusBeats.com.
One of my soundtrack pieces, the idea for this song was sparked by the piano "hook" melody (chorus). I wanted a strong, intense feel for this one and builr the orchestration to really carry the trackeven without the lead piano. The piano is all improvisation added after all of the other instrumentation and song structure was completed. 
Without the lead piano, this could be a great story rap bat for a skilled storytelling rapper. This could also be a nice fit for a film, video game (end credits) or commercial ad.
Made for the Christ Beats Moody instruMental Music Collection
Blacks | Piano Beats | Christ Beats
For this original piano beat, I'm using Propellerhead Reason and the Yamaha DJX MIDI keyboard as a controller to trigger all instrument sounds in Reason. Be sure to check out my Reason Beat Making Video Tutorials, where I show you how to make Moody instruMental Music and sample flip beats.
"Blacks"
Moody instruMental Music
Copyright 2014 by Taurus M. James
Some Rights Reserved.
Sample Facts
NO SAMPLES
Artist: Taurus M. James
Album: Christ Beats
Released:
Writer: Taurus M. James
Label: ITNOJ Music
Producer: Taurus M. James
MUSIC Type
instrumental, piano music, theme music, soundtrack, film music
MUSIC Use Suggestions
film, video game, background, commercial, advertisement, ads
MUSIC Tempo
Medium 81bpm - 110bpm
MUSIC Themes
world, international, horror, relation, sports, sci-fi, technology, high class, fantasy, movies, entertainment, showbiz, places, education, action, mystery, crime, drama
MUSIC Moods
builds, grows, busy, catchy, dramatic, adventurous, angry, dangerous, dark, eerie, haunting, evil, sinister, fearful, mean, tough, mysterious, ominous, paranoid, scary, strange, uneasy, emotional, anticipation, anxious, introspective, lonely, nostalgic, reflective, poignant, thoughtful, energetic, aggressive, driving, urgent, inspirational, uplifting, passionate, sad, depressing, melanchoiy, melodramatic, strong, anthemic, bold, confident, determined, epic, majestic, noble, dignified, patriotic, powerful, sophisticated, victorious
INSTRUMENTS
brass, french horn, trombone, trumpet, tuba, horn section, drums, percussion, guitar, bass, keyboard, piano, orchestra, reeds, woods, wooswinds, bassoon, clarinet, english horn, flute, oboe, strings, cello, harp, viola, violin, upright bass, string section, synth, synthisizer, whispering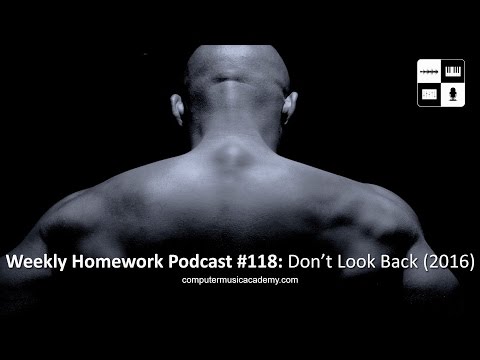 Check out my track "Run Wild (Don't Look Back)" on Don't Look Back - Weekly Homework Podcast #119
This is an old one, but I still like it. It's me rappin' over P. Diddy's "Bad Boy For Life" track. I had fun changing up my voice to make it seem like I had other people on the track with me.
---
Got something to say? Sign up or login to participate in the conversation.