Media: Dr. Dre Type Beat West Coast Slow Rolling – Taurus James aka TaurusBeats
No Contest
No Contest
by Taurus M. James (ASCAP)
Ad Film Soundtrack TV
88
4:54

Found in...
Final Hour Music 1
942 Views ; 4805 Likes ; 0 Comments
Image: Taurus James aka TaurusBeats – Dr. Dre Type Beat West Coast Slow Rolling – TaurusBeats
No Contest is a Dr Dre Type Beat, with that West Coast Slow Rolling feel to it. This is one of the first beats I made attempting to emulate one of my favorite music producers, Dr. Dre.
Final Hour Music Volume !
No Contest is part of the Final Hour Music Volume 1 collection.
The Story Behind "No Contest"
"No Contest" Made With Propellerhead Reason
Recording Information
"No Contest"
Dr Dre Type Beat
by TaurusBeats
Length : 04:54 Min/Sec
(Taurus M. James, ITNOJ Music, ASCAP)
This recording (c) 2003 Taurus M. James.
All Rights Reserved.
MUSIC Type
original, instrumental, organic
MUSIC Use Suggestions
story rap, storytelling
MUSIC Tempo
Medium 81bpm - 110bpm
MUSIC Themes
west coast
MUSIC Moods
dramatic, angry, dangerous, dark, eerie, haunting, evil, sinister, fearful, mean, tough, mysterious, ominous, scary, stealthy, strange, weird, suspenseful, uneasy, relaxed, laid back
INSTRUMENTS
drums, synth, bass
Join me in taking action against hunger.
I'm contributing 25% of all music sales and donations here on TaurusBeats.com towards this great cause. When you buy any CD, MP3 or make a donation to support my music and this site, 25% of the sale/donation will go to Feed The Children to help feed children here in the United States as well as children around the world.
Of course, you don't have to purchase anything here on TaurusBeats.com to make a difference. You can go to FeedTheChildren.org yourself by clicking on the image below. I just ask that you take action against hunger.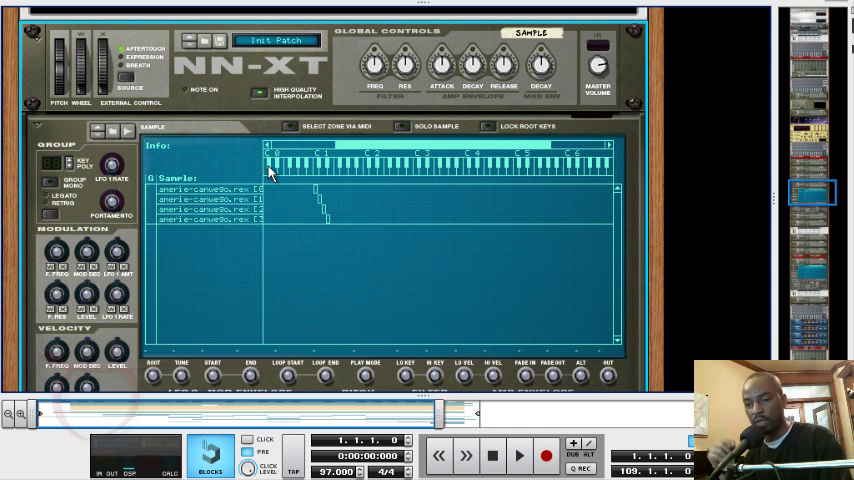 Make Sample Flip Beats with Reason: The Making of "Rollin" (Part 2 of 4)
Rollin Sample Flip Beat Tutorial Part 2
Learn how to chop and flip samples using Propellerhead Reason and the M-Audio Oxygen25 USB/MIDI keyboard controller.
In this video, I show you "How I Reason" by covering the following:
In Part 2:
- Propellerhead Reason 4
- Slicing Samples in ReCycle 2.1
- Propellerhead ReCycle 2.1 Autoslice feature
- ReCycle 2.1 Transient Shaper
- Loading Samples into Reason 4 NN-XT Sampler
- Using MPD32 with Reason 4 to act as a "poor man's" MPC (Fake MPC Feel)
- Select Zone via MIDI feature in NN-XT
Time: 8:13
This video is about: sample chop, sample flip, flip a sample, chop a sample, sampling, music sampling, Sample Chopping, Sony Soundforge, Propellerhead, ReCycle, sample Flipping, Propellerheads, Reason, software Akai, MPD32, Pad controller
Rollin Sample Flip Beat Video Series Part 2 Can We Go Back Amerie Carl Thomas Remix by TaurusBeats