Not By Sight - Life Story Music
Piano Freestyle Jazz by Taurus James
2 Corinthians 5:7
New International Version (NIV)
For we live by faith, not by sight.
"Not By Sight"
From the "Vision" collection
This piano freestyle (improvisation) is my expression of my thoughts and feelings about living through the loss of my eyesight. In Christ, I have peace that I nevera had before, even in the midst of trouble.
Inspiration is what you are watching in this video. The Strong Creator God is inspiring me to play the piano parts without any prior rehearsal.
I am amazed each time I watch this video because I know how limited I am. I don't play piano and I cannot go back and perform these piano parts. I started making these video recordings to capture what happens when I am "in the zone" - what I call the Grace and Peace Zone.
I cannot fully explain the experiences of creating the music with all of the instrumentation and its arrangement.I praise God for the experience of knowing Him through music in this way. He uses my limited abilities and reveals His power to inspire far beyond what I can imagine.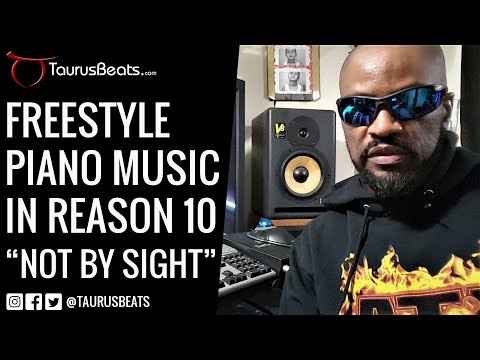 Image for Not By Sight - Life Story Music –
VIDEO INFORMATION
Channel:

TaurusBeats Music

Uploaded time:

May 19, 2018 at 2:09 PM

Duration:

5:32
Don't forget to Subscribe!
Music Type
piano, cinematic, instrumental, life story
Music Use Suggestions
Cinematic Music for life story, soundtrack, background
Music Tempo
147bpm (Slow)
Music Themes
Life Story, Triumph, Overcome, Inspire
Music Moods
focused, intense, busy, catchy, dramatic, adventurous, angry, dangerous, dark, mean, tough, energetic, aggressive, driving, lively, hi-energy, insistent, strong, anthemic, bold, confident, determined, epic, victorious
Music Instruments
brass, french horn, trombone, trumpet, tuba, horn section, drums, percussion, bass, keyboard, orchestra, strings, cello, viola, violin, string section
? QUESTIONS? ?
==============
E-mail me your music-related questions about Propellerhead Reason, Sample Flip Beats, Remixes, TaurusBeats, Taurus M. James, How To Make Beats, Using Reason, MPD32, Oxygen8, Flip a Sample, Beat Tutorial, Original, Piano Music, Moody Instrumental Music
E-mail: taurus@taurusbeats.com
? LINKS ?
=========
http://taurusbeats.com
http://twitter.com/taurusbeats
http://instagram.com/taurusbeats
http://facebook.com/taurusbeats
http://taurusjames.com
Thank you for watching, liking, commenting, and sharing. I am very grateful.
Grace and Peace!
TaurusBeats
aka Taurus M. James
---
Share on social media
TaurusBeats uses AddThis share buttons so you can easily share your favorite content from this site to your Facebook, Twitter, and more.
To share this on social media, click on the share icons. You will be prompted to connect your social media account if you have not already.
Thank you for sharing!