How To Lock Akai MPD32 or Oxygen 25 Controller to a Device in Reason
This video shows how to lock a single USB/MIDI controller, like the the Akai MPD32, to a device in Propellerhead Reason, like the NN-XT Sdvanced Sampler (or any other Reason device).
Beatmaking tutorial - Akai MPD32 - Oxygen 25 - How to Lock MPD32 to a Device in Reason
In this video, I discuss:
- MPD32 USB/MIDI Controller
- Using Multiple Controllers (USB/MIDI control surfaces) in Reason
- Reason Preferences
- Having Multiple Controllers in Reason
- Using MIDI-only Keyboards as Controllers in Reason
- Step-by-step locking of Akai MPD32 to an NN-XT sampler in Reason
Time: 6:47
This post is about: Locking controllers, lock control surface, MPD32, Reason, Akai MPD32, Oxygen25, MPD32 setup, MPD, Oxygen 25, multiple controllers in reason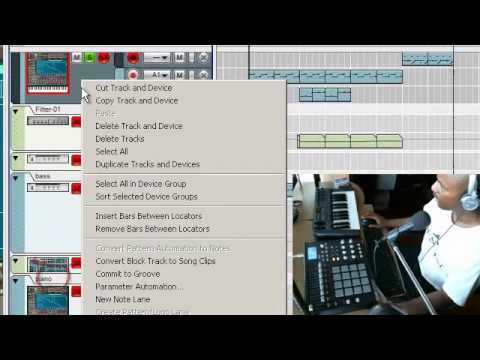 Image for How To Lock Akai MPD32 In Propellerhead Reason –
I made this video in response to a question I received about how to setup the Akai MPD32 USB/MIDI control serface in Propellerhead Reason on a PC running Windows.
I'm using Propellerhead Reason 6.5 and I walk through, step-by-step, how to setup the MPD32 and use the pad controller to trigger sounds in Reason devices like the NN-XT Advanced Sampler and the ReDrum Drum Programmer. This is not a comprhensive tutorial about using the AKai MPD32 to sample flip, but it is enough to get you started with the device setup so you can start making your music better.
Follow me on Facebook, Twitter, Soundcloud etc. and I'll see you there! =)
Thank you for your support.
Grace and Peace!
Taurus M. James
MPD32, Reason, Akai MPD32, MPD32 setup, MPD, I discuss all in this video.
How to make beats and Hip Hop Music Sample Flip Beat sample beat beat how to
instrumental beats instrumental reason beats instrumental instrumentals music music video new music new songs hip hop dance make music propellerhead reason
Akai mpd32 m-audio oxygen 8 midi controller instrumental beat moody instrumental music beat making