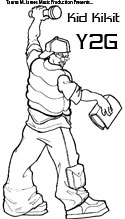 Image for TaurusBeats aka Kid Kikit – TaurusBeats (Taurus James)
Updates about TaurusBeats as the Rapper Kid Kikit
Content locked
If you are already a member, you will need to sign in.
What People Are Saying
Mthalic Banks - na
Hi Mr Taurus,i your tutorials have been helpful i would love to rap on your beats,you inspire me a lot,God bless you
Lord Toranaga - na
you make great videos. excellent production quality!
Eddie Konczal - na
Beautiful version of "Mary Did You Know" - great job!
jjcue3 - na
Hey TaurusBeats just letting ya know you are inspirational man. You say your a drummer and not a pianist..........damn dude, you rock dem keys pretty gooooooood! All the best to you man and I gonna keep on listening!
VTine - na
I received your information from your sis. KayJay, I'm the one she spoke of that would be emailing you ref. a friend of my newphew trying to push some music. Just wanted to try and help him out. Thanks PS nice music you have there.
Leave a Comment!