Media: Serious four-on-the-floor dance music w/ piano and lush orchestration by TaurusBeats –
4 Down
4 Down
by Taurus James
Electronic EDM Dance House
137
5:24

Found in...
CMA Beats
Image: – Serious four-on-the-floor dance music w/ piano and lush orchestration by TaurusBeats – TaurusBeats
"4 Down" Original, organic Beat - Moody instruMental Music by Taurus M. James
This is one of the original compositions in my Moody instruMental Music collection "CMA Beats" available for download here at TaurusBeats.com.
4 Down is a four-on-the-floor dance track that features piano and lush orchestration to create a mood that is serious, intens, romantic and impassioned.
For this composition, I'm using Propellerhead Reason 6.5 and the Yamaha DJX MIDI keyboard as a controller to trigger all instrument sounds in Reason. Be sure to check out my Reason Beat Making Video Tutorials, where I show you how to make Moody instruMental Music and sample flip beats.
Made for Computer Music Academy (CMA) Homework Assignment #64
Weekly Homework Podcast #48 | Beats | Computer Music Academy
Your assignment this week is to create a Four on the Floor track (organic or sample based) within your own genre. Your 4 kick pattern should be the first thing you lay, then build everything else around it. By building around the kicks, I mean by interweaving the rest of your music on top of, around and in between them. Let the kicks drive and while the rest are passengers. Experiment! Come up with some sickness that's out of your comfort zone. Since this is different from our "Electronic/Dance Music" Assignment, I'd like to see the peeps that normally make that style to try something different, but stick to the script. I'm pretty sure all of you will kill this. This assignment is due Sat 9.27.14 @ Midnight EST. Your submission should be 2:30 of less.
Even though I'm using Propellerhead Reason to make my Moody instruMental Music creations, you can use my tips and techniques in any DAW to create your own music and make beats.
Follow me on:
Facebook TaurusBeats
Twitter @TaurusBeats
Soundcloud TaurusBeats
Thank you for your support.
Grace and Peace!
Taurus M. James
"4 Down"
Moody instruMental Music
Copyright 2014 by Taurus M. James
ALL Rights Reserved.
MUSIC Type
Original, organic, instrumental, no sample, beat, 4 on the floor, dance music
MUSIC Use Suggestions
exercise, fitness, running, dancing, party, background, commercial, advertisement, ads, road trip
MUSIC Tempo
137 bpm (Fast)
MUSIC Themes
relation, shopping, fashion, party, sports, sci-fi, technology, entertainment, showbiz, action, fitness, driving, road trips
MUSIC Moods
builds, grows, busy, catchy, dramatic, adventurous, angry, dangerous, dark, eerie, haunting, evil, sinister, fearful, mean, tough, mysterious, ominous, paranoid, scary, stealthy, strange, weird, suspenseful, uneasy, emotional, anticipation, anxious, childlike, demure, disappointed, heartwarming, introspective, lonely, nostalgic, reflective, poignant, sentimental, thoughtful, energetic, aggressive, driving, lively, hi-energy, rowdy, urgent, wild, frantic, insistent, positive, optimistic, bright, carefree, happy, joyful, inspirational, uplifting, satisfied, contented, upbeat, punchy, strong, anthemic, bold, confident, determined, epic, majestic, noble, dignified, patriotic, powerful, sophisticated, victorious
INSTRUMENTS
brass, french horn, trombone, trumpet, tuba, horn section, drums, percussion, guitar, bass, keyboard, organ, piano, orchestra, hits, stabs, strings, cello, viola, violin, upright bass, string section, synth, synthisizer, vocal, sampled, male
Pete Rock, how to make beats, Sample Flip Beats, moody instrumental music
Second version of Silly Me with a little more sample usage. I changed the mood of this one a bit by changing the piano chords.
i thought about writing some verses for this one reflecting on some old crushes I had. Then I thought that it is best to leave some things in the past.
Silly Me...
Silly of me...
To think that I...
Loved you...
How I...
Loved you...
Silly of me...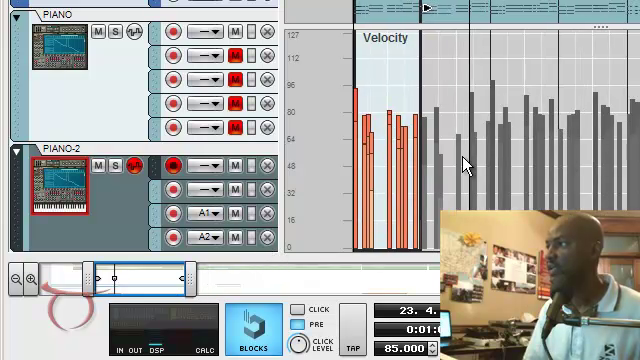 Make Music with Reason: Building Music With Basic Parts (Part 6 of 7)
Building Music With Basic Parts Part 6
Learn how to make instrumental music using Propellerhead Reason and the Yamaha DJX MIDI keyboard as a controller.
In this video, I show you "How I Reason" by covering the following:
In Part 6:
- Building the piano chords
- Layering piano chords with multiple Reason devices
- Verse structure
- Programing LH and RH piano parts
- Humanizing Techniques to male piano sound more human (more human feel)
- Changing octaves for piano parts
Time: 6:10
Propellerhead Reason Making Music With Basic Parts Video Series Part 6
This post is about: piano, layering, reason, piano doubling, propellerhead reason, piano pattern, layers, yamaha djx, make music, instrumental music, octave change, piano layering, basic music parts, instrumental, layering piano, piano pattern, nudge notes, humanizing, note nudging, humanize, human feel, technique
---
Got something to say? Sign up or login to participate in the conversation.