New Flavor
New Flavor
by Taurus M. James (ASCAP)
Ad Film Soundtrack TV
94
4:10

Found in...
Final Hour Music 1
Taste and see that this one is good!
Accoustic Guitar, Bass, Electric Piano, Synth Strings and Drums.
File Format: .mp3
File Size: 3.87 MB
Bitrate : 128 Kbits
Frequency : 44100 HZ
Length : 04:10 Min/Sec
(Taurus M. James, ITNOJ Music, ASCAP)
This recording (c) 2003 Taurus M. James. All Rights Reserved. International Copyright Secured. Any use, transmission, broadcast, synchronization, or reproduction without owner consent is prohibited.
MUSIC Type
vocal, instrumental, remix, a capella, minimal, sample flip
MUSIC Use Suggestions
exercise, fitness, running, dancing, party, background, commercial, advertisement, ads, road trip
MUSIC Tempo
94bpm (Medium 81bpm - 110bpm)
MUSIC Themes
world, international, wild west, nature, horror, relation, shopping, fashion, party, sports, 1920s, american history, tropical, kids, sci-fi, technology, 1960s, biker, punks, high class, , religious, holidays, farm, rural, fantasy, movies, christmas, entertainment, showbix, 1950s, places, 1970s, education, action, mystery, crime, las vegas, 1980s, martial arts, runnung, fitness, driving, road trips
MUSIC Moods
abstract, repetitive, robotic, mechanical, scientific, futuristic, sparse, atmospheric, ambient, dreamy, elegant, graceful, ethereal, heavenly, hypnotic, lush, magical, panoramic, pastoral, shimmering, swirling, trippy, builds, grows, busy, catchy, dramatic, adventurous, angry, dangerous, dark, eerie, haunting, evil, sinister, fearful, mean, tough, mysterious, ominous, paranoid, scary, stealthy, strange, weird, suspenseful, uneasy, earthy, organic, emotional, anticipation, anxious, childlike, demure, disappointed, heartwarming, introspective, lonely, nostalgic, reflective, poignant, sentimental, thoughtful, energetic, aggressive, driving, lively, hi-energy, rowdy, urgent, wild, frantic, erotic, naughty, raunchy, sexy, fun, comical, humorous, drunken, whimsical, insistent, Positive, optimistic, bright, carefree, happy, joyful, inspirational, uplifting, satisfied, contented, upbeat, punchy, quirky, relaxed, laid back, lazy, peaceful, calm, romantic, passionate, sensual, tender, sad, depressing, melanchoiy, melodramatic, strong, anthemic, bold, confident, determined, epic, majestic, noble, dignified, patriotic, powerful, sophisticated, victorious
INSTRUMENTS
brass, bugle, french horn, trombone, trumpet, tuba, horn section, big bamd, brass band, drumline, marching band, rock band, symphonic band, drums, percussion, guitar, bass, world guitar, lute, dulcimer, keyboard, harpsichord, organ, piano, orchestra, hits, stabs, reeds, woods, wooswinds, accordion, bassoon, clarinet, english horn, flute, oboe, piccolo, recorder, saxophone, badpipes, didgeridoo, duduk, strings, cello, celtic harp, fiddle, harp, pissicato, viola, violin, upright bass, string section, synth, synthisizer, vocal, a capella, beat box, chikd, chanting, choir, gregorian chant, opera, scat, male, female, vocoder, whispering
When I started making sample flip beats (beats with samples from other artists), it was never my intention to steal from the artists I sampled from. In fact, I thought of the derivative works I created as my personal tributes to the artists. Regardless of what I thought, I am convinced that my actions, specifically in posting the derivative works here on TaurusBeats.com with a price to download, were wrong.
Therefore, all beats, instrumentals, tracks, music, songs, (or whatever you want to call them) that contain samples from other artists will be downloadable at no charge. Also, derivative works that contain samples will not be available for licensing.
I cannot give you permission to use a derivative work that I have created, with a sample that I do not own, in your production. However, I will make the beats/music available for licensing WITHOUT the samples.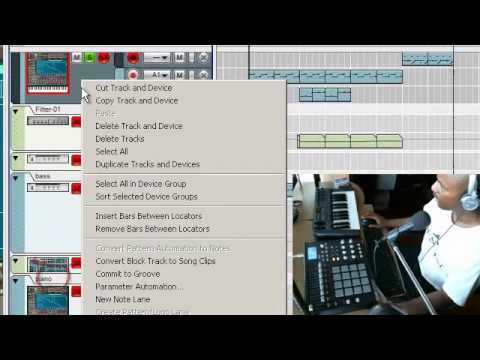 How To Lock Akai MPD32 or Oxygen 25 Controller to a Device in Reason
This video shows how to lock a single USB/MIDI controller, like the the Akai MPD32, to a device in Propellerhead Reason, like the NN-XT Sdvanced Sampler (or any other Reason device).
Beatmaking tutorial - Akai MPD32 - Oxygen 25 - How to Lock MPD32 to a Device in Reason
In this video, I discuss:
- MPD32 USB/MIDI Controller
- Using Multiple Controllers (USB/MIDI control surfaces) in Reason
- Reason Preferences
- Having Multiple Controllers in Reason
- Using MIDI-only Keyboards as Controllers in Reason
- Step-by-step locking of Akai MPD32 to an NN-XT sampler in Reason
Time: 6:47
This post is about: Locking controllers, lock control surface, MPD32, Reason, Akai MPD32, Oxygen25, MPD32 setup, MPD, Oxygen 25, multiple controllers in reason
---
Got something to say? Sign up or login to participate in the conversation.