When I started playing drums in the US Air Force Academy Cadet Gospel Choir in 1990, the music directors constantly reminded of how bad my timing was (in a good, encouraging way). Although I had never played on a drum kit before, they still gave me the chance to play drums as a part of this travelling choir. So, I would spend hours working to improve my timing and overall playing ability.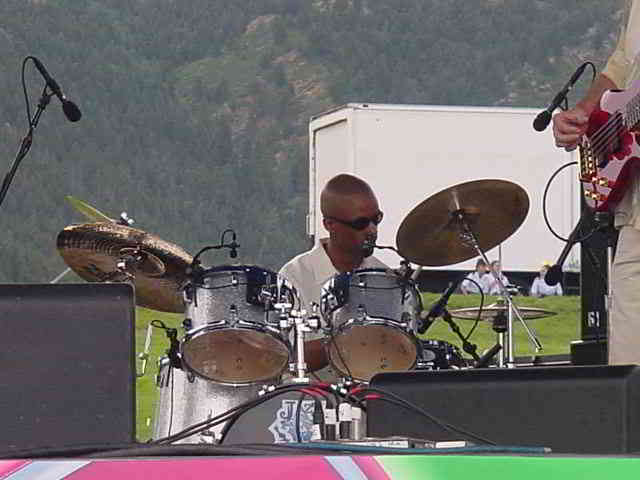 Image for How To Improve Your Timing on Drums –
Photo: Taurus on drums at the First Annual Colorado Springs Jazz Fest, US Air Force Academy, Colorado
I'm still playing drums in church and being exposed to songs in styles that I was not accustomed to playing. So, learning the new songs each week is a challenge, but the reward is great.
Time Is Most Important
I always stress the importance of time. Not only is time important in playing drums, it is important in life in genreal. Time is the most important resource you have in life. Whatever time you spend, you can't get it back. With money, if you spend a dollar, you can possibly make a dollar or more back in some way. This is not so with time. So, you have to learn how to "keep time" in life.
Time is most important when playing drums. In my experiences, I have found that it is not WHAT you play on the drum kit, but WHEN you play that is most important. Keeping time is your primary job as the drummer.
How To Improve Timing
I started playing drums with no rudimentary skils at all. I didn't even know what rudiments were!
Before trying out for the Cadet Gospel Chior, I auditioned for the Drum and Bugle Corps. It was a bit like the movie "Drumline" with Nick Cannon. I could play almost anythng I heard the other drummers play, but I could not play it HOW they played it and I could not read music. All that, plus my timing was horrible.
The cool thing about time in life is that there are always opportunities to improve. Spending time practicing with a metronome and with backing tracks is how I improved my timing while playing drums. It was hard work, but the reward was great! I became the lead drummer for the Cadet Godpel Choir and a few years later, became the drummer for The Upper Room gospel jazz band in Ogden, Utah.
I spent time in order to learn how to keep time. Even today, that is time well spent.
Hos To Think Timing
Watching other drummers as I travelled around the world, I noticed early that I was missing something elase when it came to keepin time. There was somethin basic that I had not learned and I could tell it by watching better drummers play even the most basicdrum parts. What I was missing was in my thinking. Even though I improved my timing on drums with the metronome, backing tracks and playing alond with songs, I still did not have this basic concept. Remember, i didn't know what rudiments were and there is so much understanding that I missed becusse I didn' know this.
The "pulse" is the concept. More specifically, keeping time on drums is all about how well you play the subdivisions of the quarter note. Ron Brown on Drums breaks this down so clearly in his video, "How To Develop ROCK SOLID TIMING! w/ Beatdown Brown".
Ron Brown on Drums - How To Develop ROCK SOLID TIMING! w/ Beatdown Brown
Moody InstruMental Music
All of my music benefits from this knowledge about keeping time as a drummer. I refer to mye drum experiences often in my beat tutorial videos because understanding how to keep time is so important.
I could tell I was missing the key mental part of keeping time just by watching better drummers. I could see that the way they thought about playing drums and the way I thought about playing drums were different. When I finally understood the basic concept of the pulse and playing the subdivisions, my timing improved.
Of course, I'm still working on improving my timing on drums. Spending time learning how to keep time is time well spent.