Freestyle Piano Practice
I woke up one morning and decided to do another Piano Freestyle to get some practice in. i use piano freestyles as a way to teach myself how to play piano and develop my ear (ear training).
This time, I'm freestyling over the Mobb Deep instrumental "Shook Ones Part II"
Mobb Deep Shook Ones Part II... Jazz Remix?
Mobb Deep is one of my favorite Hip Hop groups and the music they made struck a chord and connected with me emotionally. Even at 45 years old, I still rock Mobb Deep's "Survival of the Fit" everyday in the gym.
This performance is another way that I am working to positively Inspire, Influence and Impact people around the world to "Strike a Chord" and connect emotionally.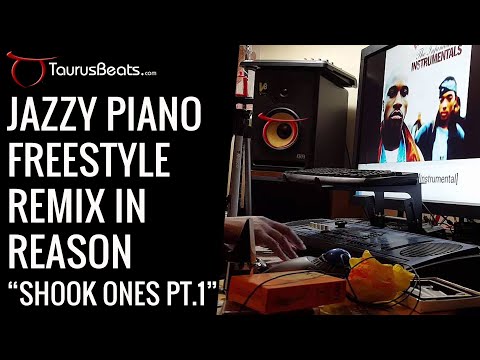 Image for Piano Freestyle Beat Video - Shook Ones (Cover) – TaurusBeats (Taurus James)
Piano Freestyle? What is it?
"Piano Freestyle" - Unrehearsed improvisation on piano. Grown-man Hip-Hop or Jazz
Think of a Hip-Hop "cypher" or circle of MCs performing "freestyles". Back in the day, a freestyle was considered to be an unrehearsed, impromptu, improvisational performance - off the top of one's head, so to speak.
MCs ("Emcees" or "Microphone Controllers") demonstrated their ability and quick wit by coming up with rhymes about anything and everything, for as long as they could without messing up or stopping.
In these ways, the freestyle was different from reciting written or previously rehearsed lyrics. While lyrical recitals are a demonstration of an MC's ability to write and perform, freestyles often distinguished MCs from the rest.
As an aspiring MC myself, I performed numerous lyrical freestyles in various cyphers around the united States. The more I practiced freestyling, the better I became. I developed an ear for the sound that I wanted along with the complex rhythms performed through syllables and word spacing.
Teach Yourself Piano
This is just something I do to have fun and work on my ear training. I am not a pianist at all and I don't know how to play piano like a pianist. I just try to make the keys play what I hear in my head.

As with all of my piano freestyle videos, this recording is the only version of the "song" that I'm making up on the fly. I'm not able to perform this version again...yet.
What I Use To Make Piano Freestyles
You can see in the video that I am using the Yamaha DJX MIDI Keyboard. This is the first version of the DJX keyboard that I bought back in 1999. What you can't see is that I am using Propellehead Reason for the piano sounds that I am playing.
Propellerhead Reason is my DAW (Digital Audio Workstation) of choice for making moody instrumental music of all genres. The DJX keyboard is connected to my PC via the MIO MIDI/USB cable and I am triggering sounds in Reason's NN-XT Advanced Sampler.
Share
TaurusBeats uses AddThis share buttons so you can easily share your favorite content from this site to your Facebook, Twitter, and more.
To share this content on social media, click on the share icons. You will be prompted to connect your social media account if you have not already.
Thank you for sharing!