Make Sample Flip Beats with Reason: The Making of "Better" (Part 1 of 2)
Better Sample Flip Beat Reason Beat Making Video Tutorial Part 1
Learn how to flip a sample using Propellerhead Reason and the NN-XT advanced sampler.
In this video, I walk through the sample flip beat "Better" by covering the following:
In Part 1:
- Propellerhead Reason
- The Reason NN-XT Advanced Sampler
- Chopping Samples: How I chop samples for sample flip beats
- Flipping Samples: Why I use the Reason NN-XT advenced sampler to flip a sample
- Using Frequency Filtering to make sample flip patterns stand out
- Song Arrangement: Creating different sample flip patterns for each verse
- Layering sample flip patterns
- Track Preview
Time: 22:00
This video is about: reason beat making, sample flip beat, beat making video, sample chop, sample flip, flip a sample, chop a sample, sampling, music sampling, Sample Chopping, sample Flipping, Propellerhead Reason, NN-XT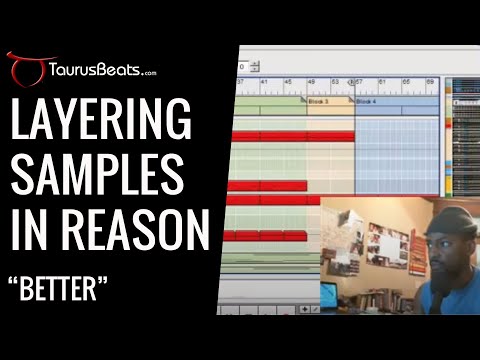 Image for Sample Flip Beat Tutorial Walk-through: Better –
In The Video
Preview of the sample 0:55
I made a sample selection using Sony Sound Forge, but almost any wave editing software can be used to cut sample chunks. In this video, I move straight into the Reason NN-XT because layering samples is the focus of this video. I used Propellerhead ReCycle to chop my sample selection into smaller "slices" and then save the slices in RX2 file format to be loaded into Reason's NN-XT or Dr REX.
Layering Samples Using Multiple Reason NN-XT Samplers 2:35
I use multiple NN-XT samplers so I can create sample flip patterns using the same sample slices without the MIDI clashing when the patterns play at the same time. MIDI notes from different note lanes in the same device can "clash" when the notes trigger different samples at the same time WHEN THE POLYPHONY IS SET TO 1 (MONOPHONIC SETTING).
Trigger Samples Like MPC 3:20
The first thing I do after loading the samples into Reason's NN-XT Advanced Sampler is to change the Polyphony and Amp Envelope Release settings in order to get the NNXT tor respond like an MPC when I trigger samples using my MIDI Contoller. In this case, I am using my Yamaha DJX MIDI keyboard as a controller to trigger samples in the NN-XT.
Doing this allows me to have the NN-XT play the sample slice completely when I press and release a key or pad on my controller. I don't have to hold down a key or a pad to play the entire sample chop. Also, I get the sample cancellation behavior whwn I press another key or pad. This behavior vital for the type of sample flipping I do.
Irregular Sample Chops 5:35
Most of the time, i chop samples irregularly. This means that I don't use quantization or make chops based on a certain beat in a measure. Simply put, I chop wherever i want without regarding the sample's tempo. Put another way, I just chop where it sounds good to me. I don't care about how fast or slow the sample is compared to my beat. The way I actually flip the sample slices (my fliiping style) takes care of the tempo concerns.
Using Volume, Filtering and Panning to Distinguish Sample Layers 7:00
The samples are in different samplers that have been setup the same way. I use mixing techniques to distinguish the layers from each other. For example, I use different volume, panning and eq filtering levels on each layer.
Layering The Different Sample Flip Patterns 8:45
I tend to make around 2 dozen sample flip patterns on average. I can layer the different patterns in some pretty creative ways.
Benefits of Using Multiple Devices for Arranging 18:20
Because the samplers are setup as MONOPHONIC devices (Polyphony set to 1), MIDI note clash is a problem I avoid by using multiple devices. Also, it is easier for me to arrange the beat when all of the sample flip patterns are in separate lanes.
Key Matching Layerd Sample Flips to Bass Line and Other Instruments 15:25
Since all of the samples are the same, it is easy to match the key of the samples with the bass and other instruments in Reason.
The Final Beat
"Better"
Sample Flip Beat by Taurus M. James
Sample from: "Better is One Day" by Darwin Hobbs