"Uncharted Territory" Sample Flip Beat - Moody instruMental Music by Taurus M. James
This is one of the sample flip beats in my latest Moody instruMental Music collection "CMA Beats" available for you to download here at TaurusBeats.com. This could be a great story rap bat for a skilled storytelling rapper to speak on relationships or something else. The smooth RnB feel of this track calls for a smooth delivery of rap verses or even spoken word artistry.
For this sample flip beat, I'm using Propellerhead Reason 6.5 and the Yamaha DJX MIDI keyboard as a controller to trigger all instrument sounds in Reason. Be sure to check out my Reason Beat Making Video Tutorials, where I show you how to make Moody instruMental Music and sample flip beats.
Made for Computer Music Academy (CMA) Weekly Homework Podcast #48
Weekly Homework Podcast #48 | Beats | Computer Music Academy
This week is "Do What Ya Like". No strict rules or restrictions. Just bring back a banger.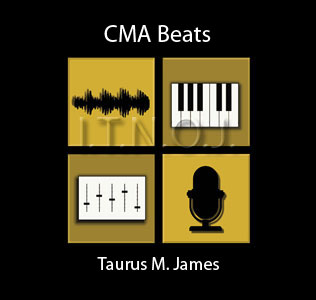 Image for Uncharted Territory –
Even though I'm using Propellerhead Reason to make my Moody instruMental Music creations, you can use my tips and techniques in any DAW to create your own music and make beats.
Follow me on Facebook, Twitter, Soundcloud etc. and I'll see you there! =)
Thank you for your support.
Grace and Peace!
Taurus M. James
"Uncharted Territory"
Moody instruMental Music
Copyright 2014 by Taurus M. James
Some Rights Reserved.
The Making Of "Uncharted Territory"
Uncharted Territory - Moody instrumental Music Sample Flip Beat MARCH Remix George Tandy Jr.
Uncharted Territory - Moody instrumental Music Sample Flip Beat Remix
To hear the full remix, go to 6:10 and be sure to go to the original and support Mr. George Tandy, Jr. - MARCH /watch?v=Tn2aEXiisGc
Samples from: George Tandy, Jr. - MARCH /watch?v=Tn2aEXiisGc
George Tandy, Jr. - MARCH - This song says exactly what I feel aboout my wife and our marriage. As a military family and male military spouse (#machospouse), we have so much "Uncharted Territory", but we still MARCH.
This remix, sample flip beat is just a show of my appreciation and love for the song by George Tandy, Jr. - MARCH
SAMPLE FACTS
NEW Song "March" by George Tandy, Jr. available on iTunes, download it now! http://bit.ly/KzAyOS
Music Video directed by: The Bully for RedStar Entertainment, A Division of Redline Media Group, LLC
"March" Performed, Produced and Written by: George Tandy, Jr.
Recorded at Debonaire Studios
Mixed by Claudio Barrella
Mastered by Ari Blitz, Shelly Yakus and Larry Ryckman at AfterMaster Studios - Hollywood, CA.
MUSIC Type
instrumental, remix, sample flip beat, sampled vocal
MUSIC Use Suggestions
exercise, fitness, running, dancing, party, background, commercial, advertisement, ads, road trip
MUSIC Tempo
94bpm (Medium 81bpm - 110bpm)
MUSIC Themes
relation, shopping, fashion, party, sports, sci-fi, technology, entertainment, showbiz, action, fitness, driving, road trips
MUSIC Moods
builds, grows, busy, catchy, dramatic, adventurous, angry, dangerous, dark, eerie, haunting, evil, sinister, fearful, mean, tough, mysterious, ominous, paranoid, scary, stealthy, strange, weird, suspenseful, uneasy, emotional, anticipation, anxious, childlike, demure, disappointed, heartwarming, introspective, lonely, nostalgic, reflective, poignant, sentimental, thoughtful, energetic, aggressive, driving, lively, hi-energy, rowdy, urgent, wild, frantic, insistent, positive, optimistic, bright, carefree, happy, joyful, inspirational, uplifting, satisfied, contented, upbeat, punchy, strong, anthemic, bold, confident, determined, epic, majestic, noble, dignified, patriotic, powerful, sophisticated, victorious
INSTRUMENTS
brass, french horn, trombone, trumpet, tuba, horn section, drums, percussion, guitar, bass, keyboard, organ, piano, orchestra, hits, stabs, strings, cello, viola, violin, upright bass, string section, synth, synthisizer, vocal, sampled, male
Pete Rock, how to make beats, Sample Flip Beats, moody instrumental music, story rap beat
Important Notice:
IMPORTANT: This song contains a sample. If you purchase a license to use this song, you are responsible for clearing the sample for use in your project. Contact me if you want to license a version of this song without the sample.
Share
TaurusBeats uses AddThis share buttons so you can easily share your favorite content from this site to your Facebook, Twitter, and more.
To share this content on social media, click on the share icons. You will be prompted to connect your social media account if you have not already.
Thank you for sharing!